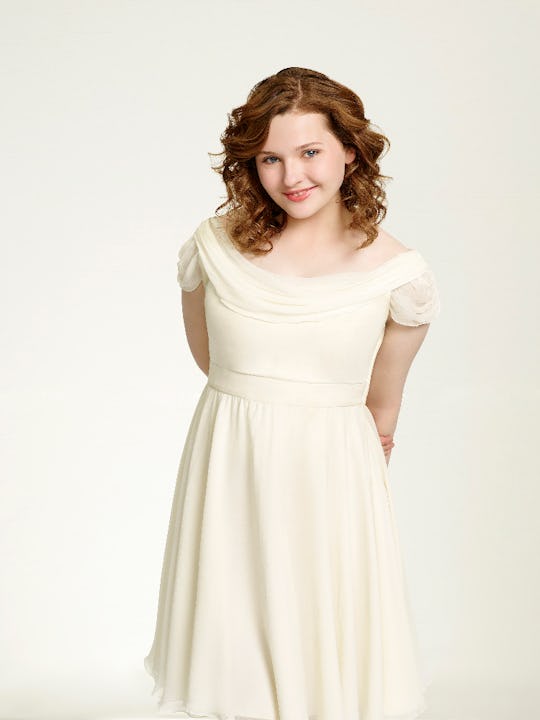 Craig Sjodin/ABC
Abigail Breslin Becomes A Triple Threat In The 'Dirty Dancing' Remake
With the upcoming release of the Dirty Dancing remake, many are undoubtedly wondering how the new version will differ from the 1987 original. The classic movie, starring Patrick Swayze and Jennifer Grey as star-crossed lovers at a swanky upstate resort, was a surprise hit when initially released. Now, 30 years later, ABC is reimagining the film with what it's billing as a three-hour television event, complete with musical numbers. Fans may wonder whether the cast is actually singing and whether the new leads' vocals are real. So is Abigail Breslin really singing on the Dirty Dancing remake?
Breslin (who plays Frances "Baby" Houseman) is, in fact, singing on the soundtrack, which was released on iTunes on May 19 (a few days ahead of the remake's May 24 debut on ABC). Specifically, Breslin is named as an artist on three numbers. She sings "Whole Lotta Shakin' Goin' On" as a duet with former Pussycat Doll Nicole Scherzinger (who plays Penny Johnson, the initial dance partner of Baby's love interest Johnny Castle). She sings another duet ("Love Is Strange") with Colt Prattes, who plays Johnny. Finally, she (and the rest of the Dirty Dancing cast) are featured in the big finale number, in a group cover of "(I've Had) The Time of My Life" (the Academy Award-winning song originally created for the 1987 film).
Several of the soundtrack recordings have already been released on VEVO by ABC, including the "Love Is Strange" duet. You can give it a listen below to preview the remake's music ahead of its Wednesday release.
Singing isn't a new skill for the actress — Breslin has had forays into the music industry before. The then 15-year-old Oscar-nominated actress made her singing debut in the movie Janie Jones back in 2011, with her song "Fight For Me" appearing on the movie's soundtrack. A few years later, she released her first music video for her original 2014 song "You Suck" (about an ex-boyfriend, unsurprisingly). In the years since, she's focused more on her acting, with roles in Scream Queens and several films, but clearly her vocal performances in Dirty Dancing represent a return to something she enjoys doing.
The actual dancing, on the other hand, was another story entirely. Breslin called her role as Baby "one of the most physically challenging" she's ever taken on, telling ABC News that she wasn't acting during the scenes where Johnny teaches Baby how to dance — Prattes (a trained dancer new to acting) really was teaching her the moves. "I'm not a dancer, I'm not graceful, I can't even walk in a straight line," Breslin told ABC. "I couldn't be the furthest thing from somebody who would be seen as, like, 'Wow, she's so poised.' Like, nobody's ever said that about me."
Of course, that's exactly the position Baby is supposed to be in at the beginning of Dirty Dancing — a vaguely awkward teenage girl who's not good at dancing and is brought out of her shell (and onto the dance floor) through her relationship with Johnny. At the very least, it sounds like Breslin's untrained dancing would lend an authenticity to Baby's arc.