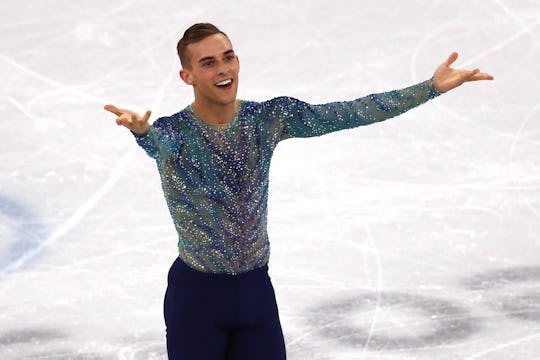 Dean Mouhtaropoulos/Getty Images Sport/Getty Images
Is Adam Rippon At The Closing Ceremony? Here's What He Decided
The 2018 Winter Olympic Games in PyeongChang, South Korea has come to an end today, and it didn't disappoint. The total Olympic medal count for the U.S. comes in at 23 medals — nine gold, eight silver, and six bronze. But, perhaps more impressive than the medals has been the exemplary character that American athletes have shown. A figure skater, for one, has been hailed an LGBTQ role model — and now fans are wondering, is Adam Rippon is at the closing ceremony?
The athlete is the first openly gay Winter Olympian, according to Refinery 29. He first made headlines when he declined to meet with Vice President Mike Pence, saying it's because of Pence's reported past support for conversion therapy, according to the Rolling Stones. Now, he's in the news again since being offered a position by NBC after helping America win a bronze in the team event, USA Today reported. While he initially agreed to join NBC's broadcast team as a correspondent to finish out the remainder of the 2018 Games in South Korea, he changed his mind when he'd realized (via Twitter, no less) that he'd have to give up his official Olympic credential and move out of Team USA Housing in the Olympic Village.
He'd also have to give up his chance to walk in the closing ceremony if he transitioned to media — which is why many viewers following the Games have been left wondering if he'd still be there.
"I am so flattered that NBC wanted me to work as a correspondent, but if I took this opportunity, I would have to leave the Olympic team and I would have to leave the (Olympic) Village," Rippon said on NBCSN, according to USA Today. He added that it's important to him to be with his team because he'd worked so hard to be on the team in the first place. And, because his teammates and friends were there for him during his events, he really felt like he needed to be there for them during their events.
Turning down the offer was a respectable move. Fans of the athlete have tweeted their respect for Rippon for standing by his team. "I love that you were not jumping in to take the money and attention," one Twitter user wrote. "You are right where you need to be, supporting your USA family."
But they're still, of course, disappointed that they won't get to revel in his comedic commentary now.
"PLEASE just keep instagramming/Tweeting your reactions to literally anything and everything cause you make my lil gay heart pitter patter with pride and fill my days with joy," another tweeted. One said, "I would have watched you announce paint drying but your decision makes sense. Good for you. Much luck and I look forward to seeing what you do next."
Rippon is at the closing ceremonies, which gathers all participating athletes in a stadium, front and center, and is meant to be "a symbolic coming together as 'one nation' in a contagious party-like atmosphere," described the official Olympics website.
The theme for the closing ceremony is "Next Wave," Jang-hwan, director of ceremonies for the PyeongChang 2018 organizing committee, wrote in an article on the official Olympics website.
"It [has] a festival atmosphere to recognize and celebrate the athletes' hard work and achievements at the Games," he wrote. "We have created a show that looks towards the future."
This year's Olympic torch, which was lit back in October in ancient Olympia, Greece, to honor the birthplace of the Olympics Games, will be passed on to Tokyo for the 2020 Summer Olympics, TIME reported.
Fans hope to see Rippon there, as well.
Editor's note: After publication, we discovered this article did not meet our editorial standards. There were portions that did not correctly attribute another source. It has been updated to meet our standards.
Check out Romper's new video series, Romper's Doula Diaries:
Watch full episodes of Romper's Doula Diaries on Facebook Watch.