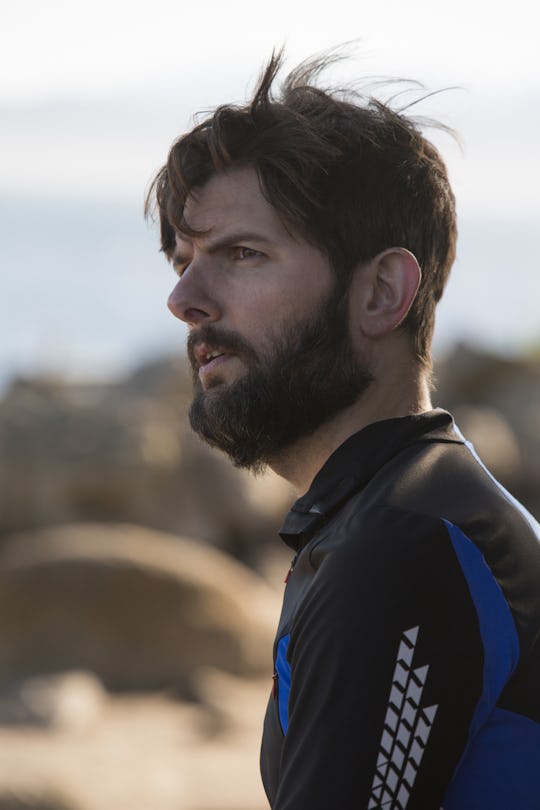 Hilary Bronwyn Gayle/HBO
Adam Scott Debuted Impressive Vocals On 'Big Little Lies'
Warning: spoilers from the finale ahead! With a Trivia Night that's "Elvis and Audrey" theme, you may expect drunk people dressed as Elvis Presley and Audrey Hepburn to sing some of The King's songs. And, in the case of the infamous Trivia Night on the Big Little Lies finale, you'd be right! No, the night wasn't infamous for the karaoke (more so for the murder that occurred). Regardless, the singing definitely stood out. Ed, Madeline's husband, took the stage to croon Elvis's "Wonder Of You." And honestly? He was pretty good! But is Adam Scott really singing on Big Little Lies? The answer may end up surprising you.
I felt a little sorry for Ed during the episode. Towards the latter part of the series, Madeline was preoccupied with her affair with Joseph, the director at the community theater where she works. On Trivia Night, she didn't tell Ed (or we didn't see if she did, at least), but he could tell something was up. He may have taken the stage to serenade Madeline, but she unfortunately took off due to guilt. As a result, Madeline missed out on a decent Elvis cover. Not only was I feeling for Ed, but the performance left me wondering if actor Adam Scott can really sing.
This isn't the first time Scott has had a big musical moment: he was in a memorable scene in the 2008 movie Step Brothers where his character sang "Sweet Child O' Mine":
As it turns out, though, that was not Scott singing. In a 2011 interview with Vulture, he explained how it really went down: "[N]othing was really working, and it became clear that I can't sing at all," he said. "Like, I tried, I went into the recording booth and tried recording vocals once and came out, and I was so terrible that nobody could even be polite about it." Scott ended up lip syncing when shooting the scene. In a 2013 Reddit AMA, he stuck to that story — and the fact that he cannot sing.
So, yeah, Scott was definitely not singing "Wonder Of You" during the Big Little Lies finale. In fact, he confessed during a recent interview with Conan O'Brien that he took voice lessons for the role... but he still couldn't cut it. Furthermore, three people were listed in the credits as Trivia Night Vocalists: Conor O'Brien, Daniel Agee, and Jimmy Valley. One of them may have acted as Ed's voice. While I'm a bit disappointed Scott's singing ability doesn't really exist, it's clear that he does have a talent for lip syncing.