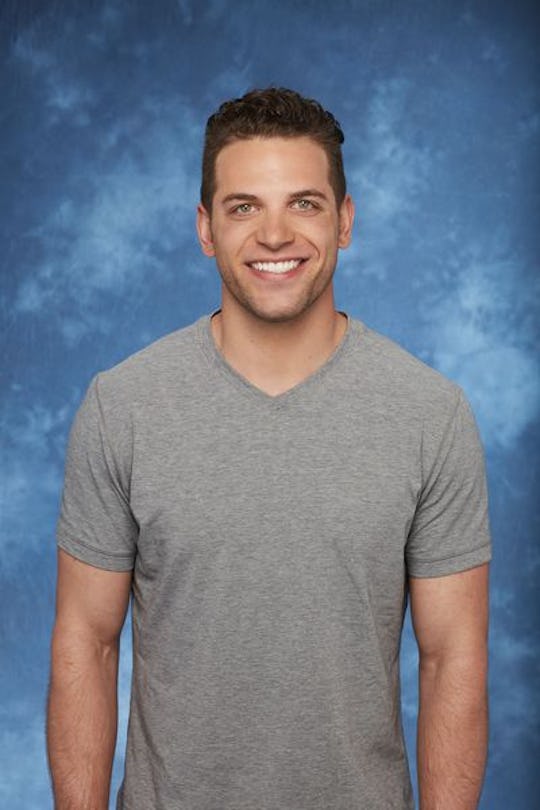 Craig Sjodin/ABC
Adam Is Keeping Quiet After His Time On 'The Bachelorette'
OK guys, it's about that time when The Bachelorette starts getting real serious. That means that the guys most likely to induce major eye rolls start getting eliminated, and you start to see a lot more intense makeout sessions. Which brings me to Adam. Is Adam single after The Bachelorette? It's hard to tell because like a good Bachelor Nation contestant, he's keeping his social media profile squeaky clean. That does not mean, however, that I cannot speculate wildly about whether or not he is currently getting romantic with any one person in particular.
Adam first captured the nation's attention when he stepped out of that limo and onto the freshly hosed driveway carrying a literal actual doll with a face painted on it that some believe bears greater resemblance to last season's Bachelorette winner Jordan Rodgers than Adam himself. The doll's name is Adam Jr., and it got more screen time than some human contestants (call me Hot Blake K!). These days, on the show Adam can probably be best described as "Him?" There's always at least one contestant that makes it close to the end that nobody really remembers, and this time that dubious honor goes to Adam (and also Matt). The only real moment between Adam and Rachel can only be found in this deleted scene clip on the ABC website.
The man's one kiss was unaired, which means (probably) that he is moments away from a tearful goodbye, unless there's something going on behind the scenes that I don't know about.
This also means that Adam is currently on the rebound. So ladies, if you like your lovin' with a side of nightmarish lookalike doll and seduction-by-wrestling, now is the time to go for it. So let's see if I can figure out his relationship status.
A recent Instagram post shows Adam golfing at the Sherwood Country Club in California, meaning he's not in his hometown in Dallas, TX. There's no woman in this photo, so this could be a men-only trip, a bachelor party, or simply Adam being very discreet and keeping his lady-love a secret until the show wraps up.
Here is Adam in a helicopter supposedly "scouting new properties," but everyone knows that helicopters are for international spies and romantic dates ONLY. So the fact that Adam appears here, alone, leads me to believe that he is actually on his way to pick up a girlfriend and show her the sunset. Or something. For this excellent reason, I am going to go ahead and say that Adam is Not Single!
I wish I had more to go on than just a hunch, but every other post on his Instagram seems to be dedicated to promoting The Bachelorette. I'm sure that makes the producers of the show happy, but is very unsatisfying for me, and the literal tens of people who want to know what Adam is up to now.
Honestly, I have no idea. Maybe he's still single after the show. And if not, then best of luck to him!