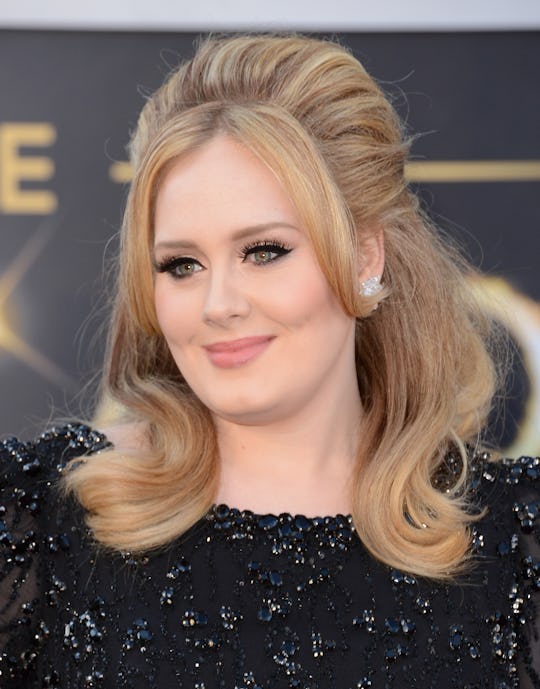 Jason Merritt/Getty Images
Is Adele's 'Hello' A Tom Waits Rip Off? The Singer Admits She Was "Inspired" By Him, But That's Where The Similarities End
The world lost its mind last week when Adele dropped her first single in three years, "Hello." Aside from reaching No. 1 on the Billboard charts immediately, Twitter users were practically spraining their thumbs left and right due to excessive posting of crying-face emojis. Fine, I'm exaggerating, but not by much. The point is, the world is really feeling Adele's new ballad. But now some fans are questioning if the lyrics are her own, or perhaps borrowed a bit too liberally from another popular tune: Did Adele really plagiarize Tom Waits' 1973 song, "Martha"? Let's examine...
"Hello"
Hello, it's me
I was wondering if after all these years you'd like to meet
To go over everything
They say that time's supposed to heal ya, but I ain't done much healing
Hello, can you hear me?
"Martha"
Hello, hello there, is this Martha? this is old Tom Frost,
And I am calling long distance, don't worry 'bout the cost.
'Cause it's been forty years or more, now Martha please recall,
Meet me out for coffee, where we'll talk about it all.
Okay, so they're both making phone calls to old lovers. They both extend an invitation to meet. They're both far away: Tom's "calling long distance," while Adele cites a difference of "a million miles" between the two. But that seems to be where the lyrical similarities end. Adele calls her lover (gah, I hate that word) to apologize and maybe try to get back together: "At least I can say that I've tried/To tell you I'm sorry for breaking your heart/But it don't matter, it clearly doesn't tear you apart." Tom, on the other hand, has moved on, and just wants to catch up over Starbucks: "How's your husband? and how's the kids? You know that I got married too?/Lucky that you found someone to make you feel secure/'Cause we were all so young and foolish, now we are mature."
Is it that uncommon to call someone you used to date? Well, okay, fine, these days you'd probably reach out via Facebook or text rather than leave them a message with your flip phone. That part is a little odd. But while the two songs clearly start off in similar places, they veer into very different directions. The only potentially sketchy part is that producer and songwriter Greg Kurstin, who worked with Adele on "Hello," told Entertainment Weekly last week that "Hello" was, indeed, inspired by Waits' work: ""She didn't want to just go through and write a pop song with any particular formula. We talked about Tom Waits, and different storytellers like that."
That admission hearkens back to the two-year-long legal battle involving Marvin Gaye's family vesus Robin Thicke, Pharrell Williams, and T.I. over similarities between Thicke's "Blurred Lines" and Gaye's "Got to Give it Up." Williams did admit to being a fan of Gaye's work, and being inspired by him: "I must've been channeling… that feeling, that late-'70s feeling. Sometimes when you look back on your past work, you see echoes of people. But that doesn't mean that's what you were doing." The Gaye family ultimately won the case.
While Waits' fans are up in arms over the minor similarities, there's been no word from the singer himself as of yet. Waits is no stranger to filing lawsuits; he has successfully sued four times after sounds-alikes were used to impersonate him in commercials. But will he sue Adele for recording a ballad about a phone call? Only time will tell.
Image: Jason Merritt; Kevin Winter/Getty Images