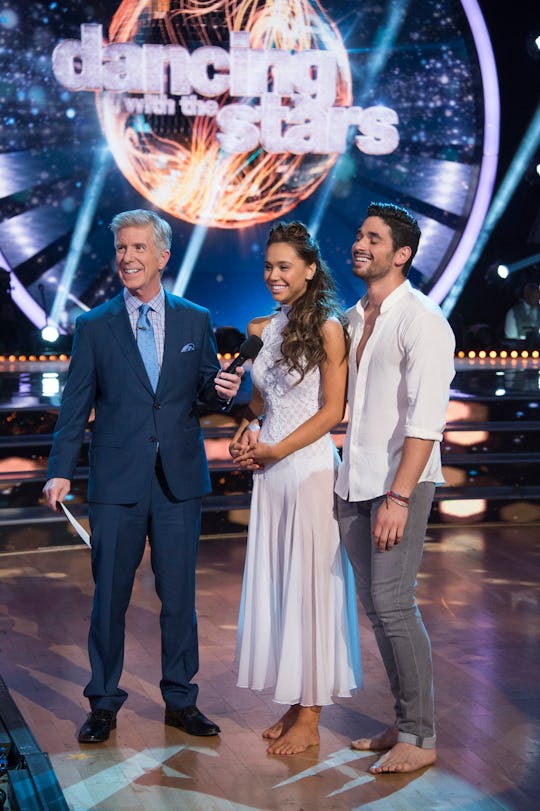 ABC/Eric McCandless
You'll Want Follow This 'DWTS' Pro On Instagram ASAP
Fans always want a peek into the lives of celebrities' fascinating lives. This includes the pro dancers on Season 27 of Dancing With the Stars. Of some of the most buzz-worthy contestants, there's one pro you should definitely check out. If you're frantically Googling "is Alan Bersten from DWTS on Instagram?" I see you; you have been seen.
Consider this your lucky day because International Business Times lists pro DWTS dancer Alan Bersten on all the major social media sites (which includes Instagram, Facebook, and Twitter). With social media influencer, Alexis Ren, as his celebrity partner, it seems like a web presence was a prerequisite for the matchup. Alan may not have the impressive 12.8 million followers like his DWTS counterpart, but 237k isn't nothing. Plus, when you follow Alan, you aren't only getting behind-the-scenes snapshots of the show — which is good enough, TBH — but also of his mentees, skateboarder Sky Brown and pro JT Church whom Alan coaches on DWTS: Juniors. Proceed with caution because the photos will likely make your heart burst.
If you're going to press the "follow" button any time soon, you might notice how good Bersten's feed makes you feel. Seriously — scroll far back in the pro's timeline. You won't be sorry you did.
With so much negativity and envy-invoking things on the web these days, it's nice to stumble onto a page made of smiles and gratitude. The 23-year-old has good reason to post all the happy-making shots. Back in the spring, doctor's appointments revealed high calcium levels. "At first [the doctors] were like, 'Oh, it's probably not a big deal. You're probably just taking some supplements,'" Bersten told People. "I went back on the road the next day, and my stomach stopped hurting."
His mother urged him to go back and when he did, doctors discovered a tumor on one of his parathyroid glands which hormonally triggered the release of the calcium. It's something said to happen more often in older women and is considered rare. The tumor had to be removed surgically to see if the tumor was cancerous or benign. "Just the word tumor is so frightening," he said. "I didn't know what malignant or benign meant until I looked it up and I was like, 'Well hopefully it's benign — God forbid I have cancer.' That is more stress than I could ever imagine. I think the scariest part was not knowing." Spoiler alert: The tumor was, thankfully, benign.
Post-surgery, Bersten spoke to ET about how the health scare changed him for the better. "I feel great, honestly. It's like a brand new lease on life. It sounds cliché, but it's a lot of fun." As far as recovery goes, he couldn't imagine missing out on a season adding, "Honestly, dancing is my passion and that's what really makes me happy at the end of the day. So, I just wanted to be back as soon as possible, dancing."
Health issues aside, if you need a daily dose of happiness, scroll through Alan's Instagram to see his two adorable nieces, shirtless (male) DWTS dancers, love from his mama, and even a little comedy (I'll let you find those posts for yourself).
I don't know how this season of DWTS will end. I have no clue if Alan and Alexis will take home the Mirrorball Trophy. And I can't tell you who he'll partner up with next season. I do know you should immediately head to Alan's Instagram. Warning: may cause uncontrollable giddiness.