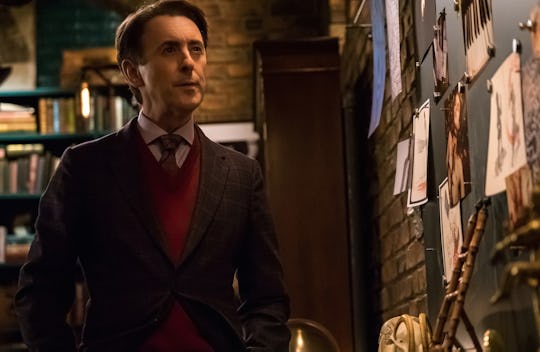 Jeff Neumann/CBS
Alan Cumming's Character On 'Instinct' Will Leave Audiences Intrigued
Every time I see a particularly fascinating character on TV, I always wonder if people like this actually exist in real life. So when I heard about the new CBS series Instinct, which premieres on Sunday, March 18, I immediately wanted to know more about it. This started with finding out if Alan Cumming's Instinct character is based on a real person. Cumming is taking on the role of Dr. Dylan Reinhart, a brilliant former CIA operative and talented author who's been recruited by the NYPD to help solve the case of a serial killer on the loose in New York City. But much as I would like him to be an actual person, it looks like Dylan comes from pure imagination.
The CBS show Instinct is based on the James Patterson novel titled Murder Games. Dylan is a retired CIA agent whose written a definitive book on criminal behavior, using playing cards as a motif throughout. But then a serial killer emerges in New York and begins leaving playing cards near the body of each victim. Deducing that this is a message to Dylan, he joins up with Detective Lizzie Needham of the NYPD to solve the case. Dylan is odd, a genius, slightly off-putting, and openly gay (which is a rare win for representation in police procedurals). But this is no true crime series, and Dylan is a work of pure fiction.
But the fact that he's not based on a real person will hardly take away from how much fun he's going to be to watch. As I mentioned before, the character of Dylan is played by Cumming, who you'll probably recognize from a vast array of movies and TV shows. Recently he played Eli Gold on The Good Wife, though I first saw him in the original Spy Kids movie when I was a kid. He's also famous for his stage-acting, and as a Tony award winner, he has legions of die-hard fans among theater aficionados.
Cumming, who has long been open about being a gay man, had some things to say about his character's sexuality and how it is treated on the show. "The gay thing is like, exactly, the fourth or fifth thing you see about the character, and I think that's a big step," he said to CBS This Morning. It's true. It's not often that a gay character is allowed to just be gay without making it a huge plot point. In the same interview he said that he was attracted to the role because the character himself seemed so interesting and multi-faceted.
It was so many different facets of a character. It was sort of — I mean, he's got so many different characteristics. And actually I think if you, when you think about going into a long-running, potentially long-running show, you want to make sure you don't get bored...I just really thought that was handled really, really well. And I think it's, you know, good on CBS for finally doing this.
It's been a pretty good year for all kinds of representation in television, which is obviously a huge step forward for the world as a whole, which is a major reason I'm looking forward to seeing the show.
The other major reason is that Cumming is a truly fantastic actor who manages to make even his creepy villains somewhat appealing. As a police procedural, the show probably won't blow anyone's minds with twists like in Westworld and I highly doubt there will be dragons, but some good characterization can elevate even the most formulaic of shows or movies. I definitely plan on tuning in to see Cumming in action.
Check out Romper's new video series, Romper's Doula Diaries:
Watch full episodes of Romper's Doula Diaries on Facebook Watch.