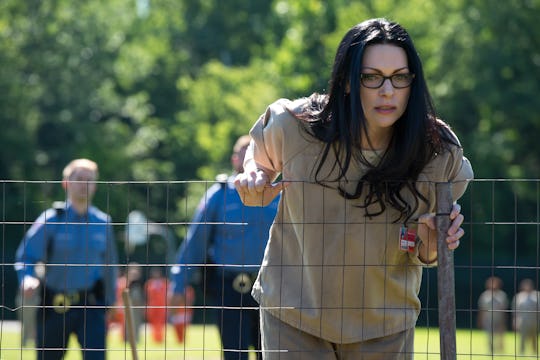 JoJo Whilden/Netflix
Is Alex In 'Orange Is The New Black' Season 4? The Trailer Has Fans Speculating
The trailer for Season 4 of Orange Is the New Black is out and it promises an intense new season. The show has always vacillated between comedy and drama, lighthearted at times and heartbreaking at others. This new season certainly seems to be leaning towards the latter. Most of the major characters are present throughout the trailer, at least in quick glimpses, but one is notably absent – or so it seems. Alex might be missing, unless you listen very closely. Is Alex in Orange Is the New Black Season 4?
While you won't see her face in the trailer, there is a voice that sounds suspiciously Alex-like asking, "Can you keep a secret?" Whoever asked the question seems to be addressing Red, who answers in a later clip, "I love secrets." The only hint of the question asker is an arm wearing a uniform shirt over a long-sleeved white top – not exactly easily identifiable. However, fans are speculating that this is indeed Alex. She is known for rolling up her sleeve in just that way, but with everyone in uniform it's hard to tell. Alex was left in a precarious position at the end of Season 3, with her fate left up in the air, so the resolution of her storyline is a big question.
In the Season 3 finale, Alex ended up cornered in the greenhouse by Aydin, a new Correctional Officer who worked for Kubra, the drug dealer Alex also used to work for. After a season of being terrified that Kubra was coming after her, it finally seemed like that was the case. Things definitely didn't look good for Alex, but if Alex is indeed asking Red about keeping a secret, it's possible she came out of the altercation alright. Now she's looking to Red for help in covering it up so she stays out of trouble.
Thanks to actress Laura Prepon, we know that Alex is definitely in the season – and she's probably a major part of it. Prepon posted on Instagram both when the season began shooting and when filming ended, making it pretty clear that Alex gets out of her confrontation with Aydin alive. Alex was also pictured in promotional images released for the upcoming season. That seems like official confirmation that Alex's chances are pretty good.
Considering Alex has most likely survived, that means Aydin wasn't so lucky. If Alex hurt or even killed him, that's probably going to mean big things for her storyline in the fourth season. If Red can't keep her secret, Alex might be looking at getting sent to Max, a fate viewers haven't seen any departing character come back from yet. But let's not get ahead of ourselves – the good news is that Alex is back.