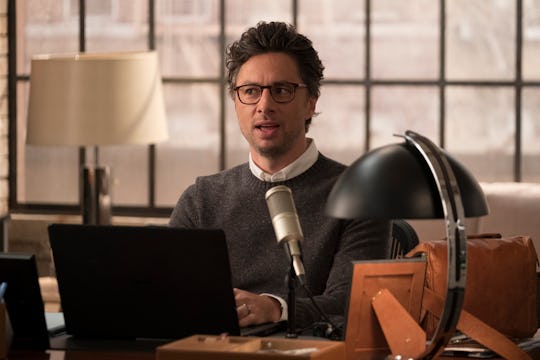 Tony Rivetti/ABC
Zach Braff's Characater In 'Alex, Inc.' Takes Inspiration From A Very Real Source
It's been some time since Zach Braff portrayed the funny but lovable J.D. on the long-running medical comedy Scrubs. But now he's back to play a different sort of dreamer in ABC's Alex, Inc. as Alex Schuman, a man who decides to leave his cushy radio job and start a podcast company on his own. But is Alex Schuman from Alex, Inc. based on a real person? If you're heavily entrenched in the world of podcasts and entrepreneurship, then you might already be familiar with the story which served as the basis for the show and the man upon whom Alex is based on. Although the show takes some creative liberties and changes things a bit for sake of television, Alex is a fictionalized version of Alex Blumberg, who started the podcast StartUp in YEAR, which followed his journey with his own startup company, Gimlet Media.
In real life, Blumberg left his job as a producer of This American Life, co-founder of Planet Money, in order to chase his dream, just as Alex in the series leaves his own successful career to find something better on his own. But that's not where the similarities stop, as Blumberg's real life wife Nazanin Rafsanjani played a big role in his transition, just as Braff's on-screen wife on Alex, Inc., Rafsanjani, seems to be an important part of the show as well. And although there are some changes to the show versus real life, Blumberg is also a big part of it overall.
As the real life co-founder of Gimlet Media, Blumberg is still the CEO of the company, but he also serves as one of the writers and producers for Alex, Inc., lending the new ABC series even more authenticity. In a recent interview with The Washington Post, he said that he can relate to Braff's Alex, especially when his on-screen daughter sort of turns down the idea of starting a podcast company while praising TV instead. "As somebody who has to explain what I do to people who don't understand what I do, including my own kids, it's the kind of thing that you have to give into," Blumberg said. "In the show, he did it much better than I do normally."
Although Braff reunited with Scrubs producer Matt Tarses, who came up with Alex, Inc. and pitched the idea to ABC, Blumberg said that he's still "piecing together how it happened," since the series comes just a few years after his real life story of starting a podcast began. But now with more than a dozen different shows hosted by Gimlet Media, which are downloaded more than 12 million times per month, it's become a quick success. That's likely what warranted the TV show and Alex Schuman being loosely based on the real life guy.
The real life Alex will probably compare to the TV one on Alex, Inc. in plenty of ways, since they both seem to have the drive and ambition to really go for their dreams, which is probably what propelled Blumberg forward in creating Gimlet Media in the first place. "I love the idea of building new stuff," he told CNN.com. "Every new podcast we launch is a chance to do something new, or do something old in a new way. I love that feeling."
And yes, he's also very much a family man in real life, though his kids were just toddlers when he originally started his podcast and company, so they've been aged up a bit in the show. Although the series isn't going to encompass his entire life story or even follow it extremely closely, Blumberg was the inspiration for the story behind the show and it's definitely going to speak to those with an entrepreneurial spirit.
Check out Romper's new video series, Romper's Doula Diaries:
Watch full episodes of Romper's Doula Diaries on Facebook Watch.