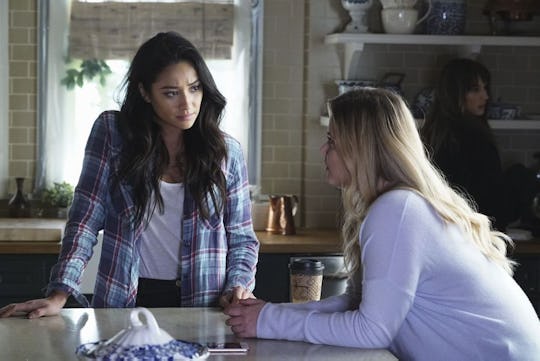 Ron Tom/Freeform
Is Ali Pregnant On 'Pretty Little Liars'? She Made A Huge Announcement In The Finale
While everyone was worrying about who would die in the Pretty Little Liars finale, no even thought about if someone might be pregnant but low and behold it looks like a new little liar is on the way. It seems Ali is pregnant on Pretty Little Liars and naturally it's not under the best circumstances.
Not even half way through the finale and there's already a lot going down. Having no idea that Hanna went on the hunt for Noel, the Liars assume the worst and break the carnal rule of calling the police. Well dealing with that mess Ali finds the time to question Emily about why Paige is in the picture again and, speaking for all us, asks when Paige is leaving. Emily immediately jumps on defense but Ali doesn't want to hear it.
After Hanna realizes dropping off the face of the Earth without telling anyone probably wasn't the best plan she returns home with some made up story, and reunites with Caleb, sexiling Emily. Alone with Ali, Emily can tell there's more on Ali's mind than just Emily's relationship status. That's when Ali drops the first major bombshell of the finale: she's pregnant and with Archer's baby no less. Yikes!
Now is definitely not the time to be pregnant. A.D. is still at large, Mary Drake is still a big question mark as is her secret child, and no one knows what Noel and Jenna are up to. Ali is piled down with stress and it seems someone always trying to kill her these days. Plus, the DiLaurentis family is already a hot mess enough; adding in whatever crazy DNA Archer brings in could lead to an interesting child. Pretty Little Liars spin off anyone?
It's obvious that Ali isn't at all happy about this pregnancy. However, hopefully with the help of Emily and the Liars Ali will feel comfortable to make whatever choice she feels is right. She should probably figure out what to do soon though. The last thing she'll want is A.D. to know she has a baby on the way. One can only imagine what terrible things A.D. would try to do with that information.