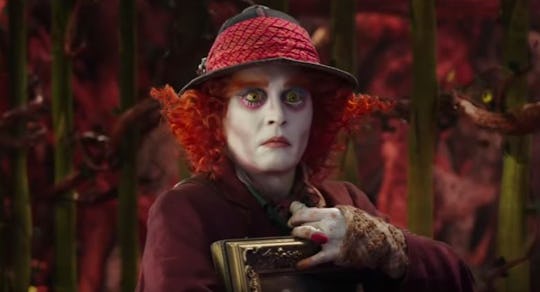 Walt Disney Pictures
Is 'Alice Through The Looking Glass' Appropriate For Toddlers? It Won't Be Light-Hearted
Tim Burton and Johnny Depp have teamed up again to return to Wonderland in the sequel to their 2010 re-imagining of Alice in Wonderland. Burton and his signature dark, kooky style appear to be making an exciting return this summer in the timeless story jam packed with an all-star cast. But is Alice Through the Looking Glass appropriate for toddlers?
Based on its PG rating from the Motion Picture Association of America (MPAA), which defines a PG movie as one that suggests kids watch with parents, and that "some material may not be suitable for children," toddlers probably aren't the intended audience for Alice Through The Looking Glass. The story centers around a now 19-year-old Alice who needs to save her friend, the Mad Hatter, played by Depp. IMDb also said that, during the movie, Alice discovers it will fall to her to overthrow the Red Queen, who is uproariously played by an almost unrecognizable Helena Bonham Carter. While even the most grown up fans are probably getting excited about the visual treat Through The Looking Glass promises, just based on the trailer. Parents probably won't want to bring their little ones to theater, considering some of the scarier, darker moments.
Take a look at the trailer, which again, is like a cupcake for the eyes it's so beautiful and luscious.
A very grown up, but every bit as lovely, Mia Wasikowska returns as Alice along with Anne Hathaway as Mirana and Sacha Baron Cohen as Time.
But, starting with Alice's lockup in what looks like some mental hospital for "female hysteria" and on through her trippy step through the mirror to save "The Hatter" and fights with all manner of foes, many of this movie's moments look like something that might scare your littlest ones.
But, then again, there are those kids who are a little less afraid of this kind of adventure and might just fall in love with this incredibly imaginative re-creation of the timeless story. There are certainly kids I know, and you probably do too, who could watch Alice Through the Looking Glass on repeat and never have a single nightmare, especially if it's a movie the whole family watches together. When that happens, no matter how scary something seems during a movie, the child is right there with family to be reassured.
Like most things, parents should always decide for themselves what's best for their kids and their family. Take MPAA ratings and guidelines into consideration, sure. But, ultimately, no family, parent, or toddler is the same.
For everyone, though, Alice Through the Looking Glass looks like an amazing couple of hours at the movies, whether the toddlers come along is up to their parents.