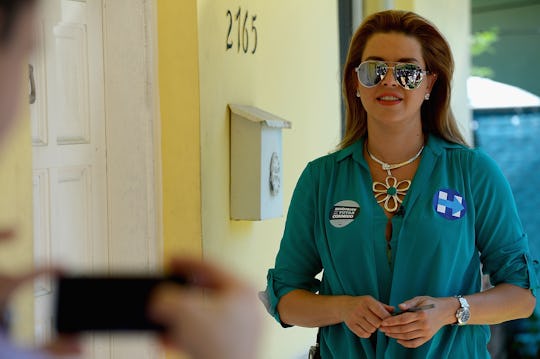 Gustavo Caballero/Getty Images Entertainment/Getty Images
Is Alicia Machado A U.S. Citizen? She's Played A Big Role In Hillary Clinton's Ads
On Monday night during the first 2016 presidential debate, people across the nation became re-introduced to the name Alicia Machado. Machado, the 1996 Miss Universe winner from Venezuela, kept a relatively low profile in the United States in the 20 years following her win. However, after last week's debate, all that has changed. Due to Democratic Party nominee Hillary Clinton's comments about Machado during the debate, some are wondering if Alicia Machado is indeed a U.S. citizen, given that she was born in Venezuela.
Throughout the 90-minute debate last week, insults and disputes between Clinton and Republican Party nominee Donald Trump were thrown around, but one part of the debate stood out in particular — Hillary Clinton's mentioning of Machado. This part of the debate would become one of the most talked about in the days following the two candidates' first face-off.
"One of the worst things he said was about a woman in a beauty contest," Clinton said of Trump during the debate. "He loves beauty contests, loves hanging around them. And he called this woman 'Miss Piggy.' Then he called her 'Miss Housekeeping,' because she was Latina. Donald, she has a name... her name is Alicia Machado, and she has become a U.S. citizen, and you can bet she's going to vote this November."
As most people know, you must be a citizen of the United States to register to vote and be allowed to vote in any government election. And in this instance, Clinton was right — Machado is going to vote because she is a U.S. citizen — despite having been born in Venezuela.
According to Us Weekly, Machado became a U.S. citizen on Aug. 19 — just in time to register to vote in the presidential election. According to Inside Edition, Machado became a U.S. citizen in Miami and revealed that her motivation for becoming a citizen was for her daughter, her country, and the opportunity to vote in the election. "Today is a very important day for me; I am now a U.S. citizen," Machado told Inside Edition. "I am so proud and so inspired to be a U.S. citizen."
There is little doubt as to whom Machado will be supporting in November, now that she is a citizen. Even before Machado became a citizen, she was speaking out against Trump, claiming that Trump had called her names and told her to lose weight as Miss Universe while he was serving as the executive producer for the Miss Universe pageant.
Since becoming a citizen, Machado has campaigned for Clinton in Miami, Florida trying to get the word out for people to vote for Clinton. "In this moment, 20 years later, the only thing I need to say is that I am a really happy person," Machado told The Guardian. "I'm a very successful person. I have my family, my daughter, my career, my dreams, my ideas. And [Donald Trump] can't be president of the United States of America." Machado reiterated that statement to The Miami Herald: "It's not revenge for me. It's just I know very well this person. I know what he can do. This is not a reality show ... he can't be the president of the United States of America."
Clinton was right about a few things during the debate, and perhaps incorrect about a few others — but one thing is definitely certain: Alicia Machado is a U.S. citizen and will be voting in November — just not for her former boss.