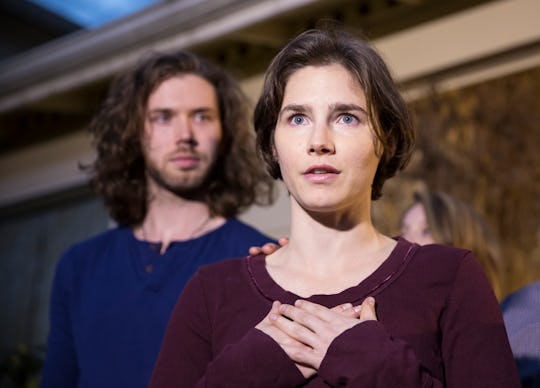 Stephen Brashear/Getty Images News/Getty Images
Is Amanda Knox Married? She's Trying To Lead A Normal Life
After spending years in the spotlight, Amanda Knox is preparing to tell her story once again for Netflix's new documentary, which shares her name. The fervor over the murder of her roommate Meredith Kercher and Knox's supposed involvement in it ballooned thanks to what was perceived as her strange, questionable behavior. Her trial went on for years with lots of back and forth, her convictions and appeals being overturned one after another. Now that some time has passed and she has been completely cleared of any crime, it appears she's mostly returned to her normal life. At least, as much as she can. She's even found someone new. But is Amanda Knox married?
Knox hasn't tied the knot yet, but she was engaged to Colin Sutherland last year, according to Us Weekly. He was a childhood friend from her middle school days whom she appeared to have reconnected with after meeting in New York and then returning to their home city of Seattle. Knox confirmed the engagement but didn't speak about it much in public, which is perhaps where there wasn't much reported about the engagement's end. Knox does not appear to have spoken about the change in her relationship status, but in a recent post for the West Seattle Herald she discussed moving in with her boyfriend Chris Robinson, so it looks like her engagement to Sutherland is kaput.
Sutherland was a musician involved in a few different musical endeavors: rock band the Johnny Pumps and a project called the Haunted Life that followed Sutherland and friends as they performed music while touring haunted locales. Robinson is also creative, but in a different field; he's an author, and he recently published the novel War of the Encyclopaedists with co-writer Gavin Kovite. Writing seems to be a passion both Knox and Robinson share, as it's something she took up now that her trial is over.
Upon returning home, Knox was able to finish her college degree at the University of Washington. She currently writes for both for the West Seattle Herald and her own blog, in addition to taking a job in a bookstore. Despite continued attention – and her decision to reopen the case by appearing in the Netflix documentary – it seems like she is trying to lead a more quiet, normal life in the wake of everything that happened to her.
There haven't been any announcements so far that Knox and Robinson plan to marry.