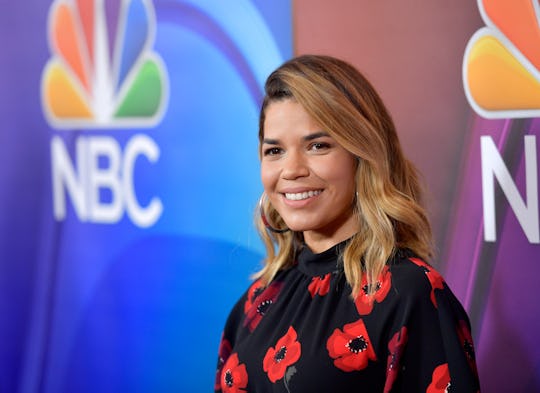 Matt Winkelmeyer/Getty Images Entertainment/Getty Images
America Ferrera Reveals She "Might" Know The Sex Of Her Baby, But Will She Tell Fans?
It's always super exciting when one of your favorite celebrities announces a major milestone in their life — it almost feels like you're celebrating with them. Take Sisterhood of Traveling Pants and Ugly Betty star, America Ferrera, for example, who announced that she's expecting her first child with her husband in the new year. So naturally, her fans are dying to know if Ferrera is pregnant with a boy or a girl — but she isn't revealing those details just yet.
During an appearance on the TODAY show on Thursday, the conversation between Ferrera and the show's hosts naturally went towards Ferrera's recent news. On New Year's Eve, Ferrera announced that she and her husband Ryan Piers Williams were expecting their first child together on Instagram. That is super exciting — but of course, that isn't enough. Whenever people find out that someone is pregnant, one of their first thoughts is to find out the sex of their baby.
So of course, during her appearance, the show's hosts had to ask her if she knew the sex of the baby. Ferrera coyly replied to their question. "I might, but I'm not telling!" Ferrera said, according to People. There you have it. She probably knows but won't be telling fans (or TV interviewers) anytime soon.
If Ferrera has thoughts on the baby's gender, then she also has thoughts on her baby's name, too. During an appearance on The Late Show with Stephen Colbert on Wednesday evening, Ferrera did not tell host Stephen Colbert what she was thinking of naming her child — but did tell him what she wouldn't name her bundle of joy (and it won't be "after a land mass or an idea," according to Us Weekly). "Growing up with the name America is not easy," Ferrera told Colbert, according to Us Weekly. "I don't want to put that on my child because I know what that feels like so I'm going to go with something that is more a name."
So the baby, whatever sex it may be, will definitely not be named Spain or Sweden or something like that. And regardless of what the baby's sex or name may be, you can tell that Ferrera is already super excited about the idea of becoming a mom. Since the news went public, Ferrera has already celebrated her pregnancy with close friends and Sisterhood of the Traveling Pants co-stars (who all happen to be mothers), Amber Tamblyn, Alexis Bledel, and Blake Lively, and documented it with the cutest Instagram post, ever.
"Starting the New Year off right with blessings from my sisterhood," Ferrera captioned the photo, according to Vogue. "We've got work to do for the next generation." But if Ferrera's baby is lucky enough to be blessed by that sisterhood, then they shouldn't need too much help.
Whatever the baby's sex may be, they will certainly have big pants (magical pants) to fill in their family. Ferrera is known for playing genuine characters in her projects, according to People and is also a huge activist, starting organizations, speaking at the Women's March, and being outspoken about causes she believes in at the same time. Not only will this child grow up with a super cool mom and a "sisterhood" of aunts, but they'll also be raised in a forward thinking household. I don't know about you but that sounds pretty cool to me.
But because Ferrera is not saying anything about her baby's sex right now, it is important for fans to respect that. While finding out whether your favorite celebrity is expecting a boy or a girl is super exciting, their privacy should be respected.
Check out Romper's new video series, Romper's Doula Diaries:
Watch full episodes of Romper's Doula Diaries on Facebook Watch.