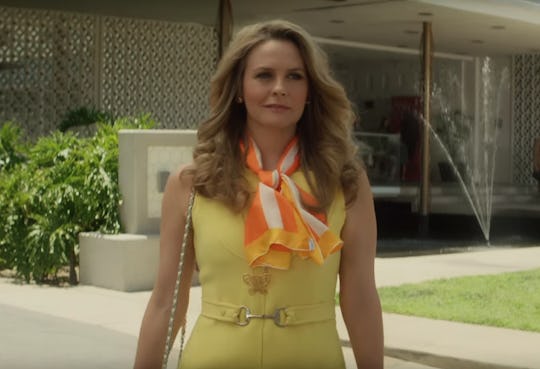 Paramount Network/YouTube
Is 'American Woman' Based On A True Story?
If you're a fan of the Real Housewives of Beverly Hills, you're probably pumped to see Kyle Richards' new show, American Woman. Kyle has mentioned the project dozens of times on the reality series, and it looks like it has shaped up to be worth the hype. With an executive producer like Kyle, and a cast to die for, the comedy is anticipated to be a huge hit. The show has gained some inspiration from Kyle's life, but is American Woman based on a true story?
In an interview with People, Kyle explained that the show was inspired by her mom, Kathleen Richards, who died of breast cancer back in 2002. She noted that while the story and writing of the show is fictional, the premise was indeed inspired by her life in the 70's and the relationship she had with her mom. Kyle told People:
"I was inspired by my mom [Kathleen Richards], being a single mom in the 70's. It was a crazy, fun, reckless time. But it's not based on my actual life."
If you only know Kyle from The Real Housewives, it's worth knowing that she and her sister Kim Richards both had pretty successful careers as a child actors in the 1970's. They were in numerous shows and movies throughout the 70's, but Kyle's most notable role was playing Alicia Sanderson Edwards for seven years on Little House on the Prairie. Kim was in dozens of television series and films, including The Love Boat, Different Strokes, and Disney's Escape To Witch Mountain.
Before even hitting the screens, it seems that Kyle's new show is surrounded by just as much drama as The Real Housewives. Her older sister, Kathy Hilton, has been upset with her about producing a show that is based on their childhood. During The Real Housewives of Beverly Hills reunion, Kyle mentioned the rift and said she hoped her sister would realize that American Woman was just inspired their mother's story of raising child actors in the 70's, but wasn't based on their lives specifically. When Andy Cohen asked her about just telling Kathy what the show was really about, Kyle responded:
"I told her all the time, I said, 'I'm not sharing your stories or Kim's — these are my own stories.' And not only that, it's a fictionalized version of our life, and our mom being a single mom in the 70's is the jumping-off point."
In her interview with People, Kyle expressed that while her sister Kim is super pumped and supportive about the new show, she really hopes that Kathy could eventually come on board after tuning in and seeing what American Woman is all about. She added:
"I hope when Kathy sees the show, she'll understand -- I love my sisters and I would never do anything to disrespect or embarrass them. I'm looking forward to the show coming out so Kathy can see it and realize. That's my hope."
American Woman is not just Kyle's way of celebrating the love and confidence she gained from her late mother, it also is coming to you with a cast of superstars. Clueless star, Alicia Silverstone will be playing the zany, fictional matriarch, Bonnie Nolan, who is a recently divorced, single-mom trying to make a life for herself in 1970's L.A. American Beauty actress Mena Suvari and 30 Rock star Cheyenne Jackson play her two best friends, and Grey's Anatomy actor James Tupper is cast as her cheating ex-husband. With a cast like this, and Kyle at the helm, the show looks like it will be a blast to watch. If you're hoping to catch the funny new series, keep your eyes peeled, because American Woman is set to debut on June 7 at 10 p.m. ET on the Paramount Network.