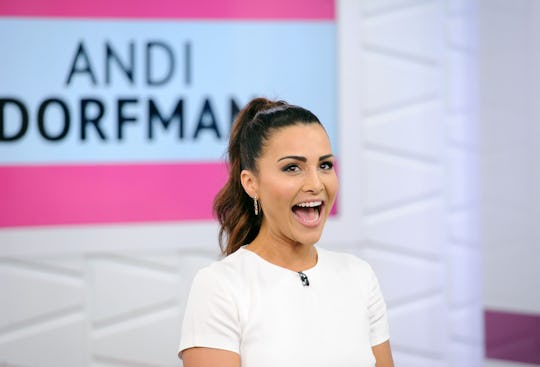 Craig Barritt/Getty Images Entertainment/Getty Images
Is Andi Dorfman Single Now? The Former 'Bachelorette' Is Looking For A Solid Relationship
Every so often, Bachelor nation manages to churn out a couple that is capable of going the distance. The original solid as a rock Bachelor couple is first-ever Bachelorette Trista Rehn and her winner Ryan Sutter, who met and became engaged on the first season of the spin-off series and have been for nearly thirteen years. But for every successful pairing, there seem to be at least four winning couples who never make it down the aisle. One such example is Andi Dorfman, who broke up with her winner Josh Murray in early 2015. But is Andi Dorfman single now?
While she hasn't come right out and clarified it, it does appear that Andi is unattached (or, at least, not in a serious relationship that she's willing to go public with) at the moment. Her Instagram account, which has mostly been filled with gorgeous photos of her trip to Greece and hangouts with female friends and family in recent months, seems to corroborate her singlehood. This makes sense, given that Andi is fresh out of a rather tumultuous relationship with her former fiance, Josh.
That pairing lasted for less than a year, with the former Bachelorette stars announcing their breakup in January 2015 after getting engaged in May 2014 while filming the show. According to Andi's new tell-all memoir It's Not Okay, the relationship quickly began to fall apart when Josh was unable to cope with Andi's "independence" and the two bickered constantly. Andi even accused Josh of being "emotionally abusive" and calling her a "whore," claims which Josh quickly refuted, calling the accusations in Andi's tell-all book a "fictional story" when his Bachelor in Paradise love interest Amanda Stanton brought it up to him.
This all led to a break-up that left Andi houseridden and unable to cope for a time.
Recently, Andi has maintained a low dating profile – though rumors did circulate about the relationship between the former Assistant District Attorney and Chris Harrison, the host of Bachelor nation himself, after Andi shared a photo on Instagram of the two hanging out in January of this year. People believed that the two must be dating because, well, Bachelor nation drama is just really addictive.
The two have also been super undeniably flirty in the past, via Twitter. But in a May interview with USA Today, Andi confirmed that the two were just good friends.
"He's actually a very good friend of mine," Andi said. "I talk to him on a regular basis... I tell him he's the last man standing of my season."
Oh, well. So much for that intrigue.
Nowadays, Andi is focusing on eliminating drama from any potential romantic attachments. She told PEOPLE Magazine back in May that all she wanted was a "steady, happy, calming and joyous relationship" – the polar opposite of what her "volatile" and "f--ed up" relationship with Josh allegedly was.
On the bright side, Andi definitely seems to be keeping her chin up about the likelihood of finding a true match, maintaining a "things happen for a reason" mentality.