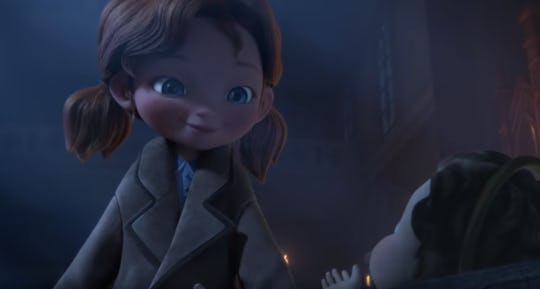 What's On Netflix/Youtube
Netflix's 'Angela's Christmas' Comes From An Author You Just Might Know
'Tis the season for holiday movies, and Netflix's new animated film, Angela's Christmas, may just become your new family favorite. The 30-minute feature tells the heartwarming story of a little girl named Angela, whose generosity shines at Christmas time, despite not having much herself. It sounds like a classic tale you would read to your kids, so is Angela's Christmas based on a book? It turns out the story comes from a Pulitzer Prize-winning author.
Angela's Christmas is based on the novel, Angela and the Baby Jesus, by Frank McCourt. The New York based author won a Pulitzer Prize in 1997 for his memoir, Angela's Ashes, which was later adapted into a film. Angela and the Baby Jesus was McCourt's only children's book, and much like his other titles, it is a memoir. McCourt tells a story about his mother, Angela, who grew up in Ireland, knowing the feeling of being cold and hungry. According to Irish Central, McCourt's mother would often tell him this story from her childhood, where she stole the Baby Jesus from her church in order to keep him warm and safe.
The new Netflix film comes from the animation studio, Brown Bag Films, and when speaking to the company, McCourt's wife, Ellen McCourt said that her late husband had always hoped to turn this book into a movie. "It was my husband Frank's dream to see this delicate little Christmas story transformed into a classic Christmas tale," said McCourt. "He would be thrilled with Angela's Christmas as is the entire extended McCourt family!"
According to Irish Central, Ellen McCourt is serving as executive producer of Angela's Christmas, and Frank's brother, 87-year-old brother Malachy McCourt is narrating the film. The outlet also reported that Academy Award nominees Ruth Negga and Lucy O'Connell are lending their voices as Angela and Angela's mother.
Just like McCourt's book, Angela's Christmas tells the story of a young Angela (Lucy O'Connell), whose genuine compassion leads her to take the Baby Jesus from her church's nativity display. In a trailer for the film, you can see an innocent, wide-eyed Angela greeting the doll, only to find that no one has covered him. In an effort to keep him warm, she snuggles him into her jacket and decides to take him home. "I'll get you home, get you all warm and snuggly, and I'll wrap you up like a little holy sausage," she adorably tells the doll.
On her way home, she faces all kind of obstacles, including a police officer who questions what she's hiding in her jacket. "I'm not stealing you," Angela is heard saying, "I just want to get you warm." As if Angela's words aren't melting your heart already, her mother's (Ruth Negga) compassionate lesson will fill you with the loving spirit the holidays are all about. "That's what families do," she tells her children. "They shelter each other from the storm, they bring joy where there is sadness, warmth where there is none."
As a parent, I'm excited to introduce my kids to the film's heartfelt message, and McCourt's book will be on my list of family holiday reads. With so much divisive rhetoric in the world these days, there's no better time to spread the gospel of compassion.
Angela's Christmas comes to Netflix on Friday, Nov. 30.
This first-time mom wants to have a home birth, but is she ready? Watch how a doula supports a military mom who's determined to have a home birth in Episode One of Romper's Doula Diaries, Season Two, below. Visit Bustle Digital Group's YouTube page for the next three episodes, launching every Monday starting November 26.