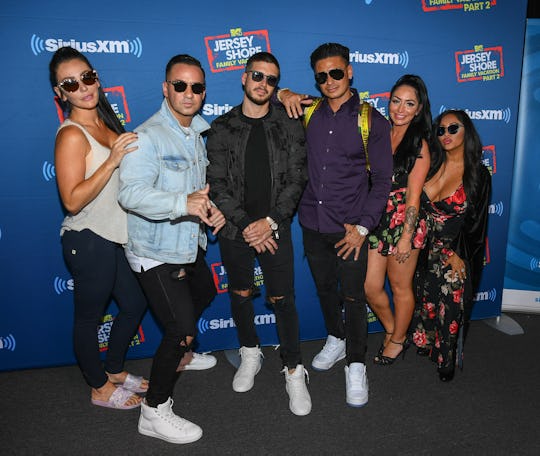 Dave Kotinsky/Getty Images Entertainment/Getty Images
Angelina From 'Jersey Shore Family Vacation' Can't Wait To Get Married
A lot has changed since the days of Jersey Shore's original run on MTV. In the intervening years, the cast has grown up and moved on, starting relationships and families. Seeing what differences time has wrought is part of the fun of their Family Vacation reunion. But viewers spend less time with occasional guest Angelina Pivarnick and might not be as up to date on her life. Is Angelina from Jersey Shore Family Vacation dating anyone, or is she enjoying the single life?
Angelina, now an EMT, is engaged to sanitation worker Chris Larangeria, which she recently confirmed on Twitter. Though co-star Ronnie Ortiz-Magro insinuated that there was some lingering romantic tension between Angelina and Vinny Guadagnino, eight years after their initial hookup, that doesn't seem to be the case. For all intents and purposes, Angelina appears to be happily engaged to Larangeria.
This is Angelina's third engagement; she was previously involved with David Kovacs in 2011 and Louie Gero in 2016. She accepted Larangeria's proposal in January of this year, and detailed the big event to Us Weekly. To pop the question, Larangeria planned an elaborate date that started at a restaurant and ended in a surfeit of flowers.
Angelina told Us Weekly that they "went out to a beautiful Italian dinner" before heading back to Larangeria's home. He used flowers to express his affection, writing "I Love You Angelina" in blossoms and going to town with rose petals. Angelina "followed a trail of rose petals all the way to his bed." Once there, she found more petals arranged into the shape of their initials, A&C, surrounded by a heart.
"The A was first, which I thought was really cute," Angelina said. "He proposed and then we laid in the roses." The whole thing was captured by Angelina's friend Adam Barta, who acted as their unofficial photographer. He talked to Us Weekly as well, saying he'd never seen Angelina as happy as she was during the proposal. "She's grown so much, and when I saw Chris get down on one knee, it made me tear up," Barta said. "There was a lot of cheering and clapping."
Angelina and Larangeria had been dating for a year before their engagement, but they were in each other's orbit long before that. They actually knew each other for 14 years. Angelina explained to Us Weekly, "We always liked each other, but I believe God brought us together at the right time."
Shortly after saying yes to Larangeria, Angelina spoke with Entertainment Tonight about how excited she was to start their lives together. "I am sooooo excited about becoming a wife and having kids," she said. "We are going to work on [the kids] rather quick." Angelina didn't reveal whether or not she and Larangeria had set a date for their wedding, but they both seem very excited about the big day.
In an Instagram post about the engagement that came complete with a polyptych of photos, Angelina wrote a joyful caption with liberal emojis. She said that the prospect of marrying her "best friend" made her "sooo happy," deeming his proposal "soo intimate and beautiful [sic]." She also noted that she was "excited for this year even more now" and was ready to "let the wedding planning begin."
It's a sentiment Larangeria seems to share on social media. Though his Instagram account is private, his profile picture is one of him and Angelina and his bio reads, "Can't wait to marry my best friend." The public might not be privy to their wedding date yet, but it seems like both Angelina and her fiancé are counting down the days.