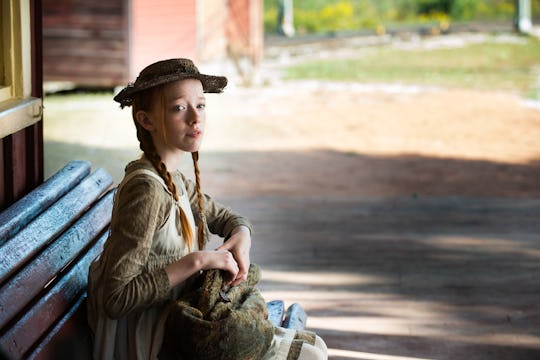 Caitlin Cronenberg/Netflix
'Anne With An E' Tackles An Intriguing Character
Anne of Green Gables' latest TV adaptation Anne with an E premiered this year on CBC, and the complete first season is making its way to Netflix on May 12. The showrunner behind the gritty new take on the classic children's series is Breaking Bad alum Moira Walley-Beckett, who wrote the entire first season herself, and has plans for a five-season series. Based on the books by Lucy Maud Montgomery, the first of which was published in 1908, the story follows an orphan sent to live on Prince Edward Island. But is Anne Shirley based on a real person? While Canadians spend a lot of time learning about their national literary treasure, other viewers less familiar with the source material may be wondering.
Green Gables is actually a real farmhouse in the town of Cavendish on Prince Edward Island, which was owned by Montgomery's family and where she spent time as a girl. She wrote the books while living in Cavendish as an adult, drawing inspiration for the book's rich setting from her surroundings. And although Montgomery was raised for part of her childhood by her maternal grandparents on Green Gables, Anne is not necessarily based on her. In fact, the inspiration for Anne's backstory — an orphaned girl sent to live on a farm by accident when the adoptive parents requested a boy to help with the farm work — came from a neighboring family. Cousins of Montgomery's grandfather lived across from Green Gables, and they requested, along with neighbors of theirs, two boys from a local orphanage to adopt for help with farm chores. The orphanage sent, instead, siblings, a boy and a girl, and the adoptive family decided to keep her anyway.
Montgomery wrote in her journal, however, that besides that detail, the adopted girl was nothing like the character Anne Shirley: "There is no resemblance of any kind between Anne and Ellen Macneill who is one of the most hopelessly commonplace and uninteresting girls imaginable."
In fact, Anne's physical appearance was modeled after a newspaper clipping Montgomery had of famous chorus girl Evelyn Nesbit (although Montgomery didn't know who she was at the time). So while bits of Anne's story were taken from Montgomery's childhood upbringing, her real-life family, and even a famous performer, Anne Shirley herself is entirely fictional. It's worth noting that Montgomery also suffered a very lonely childhood at Green Gables, without many other children around, so Anne likely served as a vessel for exploring her own childhood trauma.
This particular adaptation has been praised for its more explicit depiction of trauma, which may offer an unexpected homage to the author.