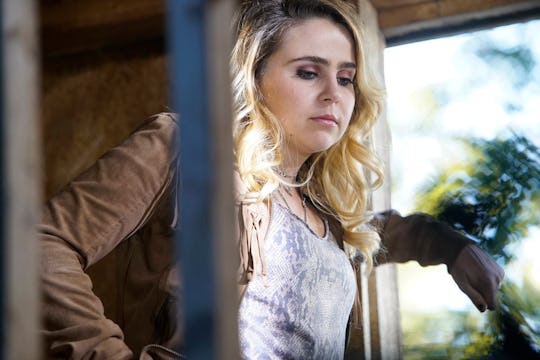 Josh Stringer/NBC
Why Fans Will Love Mae Whitman's Character On 'Good Girls'
On the NBC series Good Girls, Mae Whitman plays a struggling single mother named Annie who decides to hatch a plan with her sister and friend to rob a supermarket so they can finally have a little financial freedom. But is Annie from Good Girls based on a real person? The armed robbery aspect of things might be a little hard to believe, but her journey as a mom could be all too relatable.
It is also totally fictional. The show follows three women who get embroiled in more and more trouble as they try to dig themselves out of their initial predicament, with each situation more heightened than the last. But the characters remain grounded by realistic details and the emotional core of the show will hopefully keep things from getting too out of hand. Though everything that happens on the series is utterly made-up, Annie's life story could still hit home for some viewers.
Annie is a young mom who is faced with a seemingly impossible dilemma when her ex, now married to a slightly older and wealthier woman, tries to get custody of their daughter. As a grocery cashier, Annie can't afford the kind of attorney she would need to keep her kid. Those are issues many women face day to day, though most of them probably don't make the jump to crime as a solution.
Early reviews have indicated that the show is carried in part by the chemistry of the three leads (Christina Hendricks and Retta round out the cast), which comes from a very real place. Whitman spoke with Channel Guide Mag about how close the three women are offscreen and on, saying:
We, all three, went out to drinks and dinner and had a million wines and then ended up back at one of our houses. We just sat around and talked until literally the wee hours of the morning. It was an instant connection — and then, somehow, I left Christina's home without my pants. I think I borrowed some of her sweatpants, but all I know is the next day she texted me and was like, 'I mean, your pants are here.' I was like, 'Well, you know...sometimes things happen.' It set up the whole [onscreen] relationship perfectly.
Whitman also spoke about how the problems the characters have to navigate often feel like they're plucked from real life. She discussed the helplessness many people feel in the United States these days because they can't afford things or can't get necessary medical treatment. The characters of Good Girls have to deal with that too, but the show's more outlandish qualities balance out the drama with humor and fun.
And that was the intention of the series' creator, Jenna Bans. In an interview with Variety, Bans discussed how she came up with the idea for Good Girls and what her goals with it were. The 2016 election was a huge influence because it was a real eye-opening moment for Bans, driving home the realization that not as much progress had been made socially as she might have thought. As a result, the show deals with a lot of realistic frustrations and pushes past some stereotypes of women.
But it was also about giving people some relief in trying times. The viewers may have problems as insurmountable as the those plaguing the three leading ladies, but they can't seek out such dramatic methods of resolution. Hopefully viewers can enjoy the escapism of watching Whitman, Hendricks, and Retta hold up a grocery store, enjoy their oodles of cash, and then join together to tackle whatever comes next.
Check out Romper's new video series, Romper's Doula Diaries:
Watch full episodes of Romper's Doula Diaries on Facebook Watch.