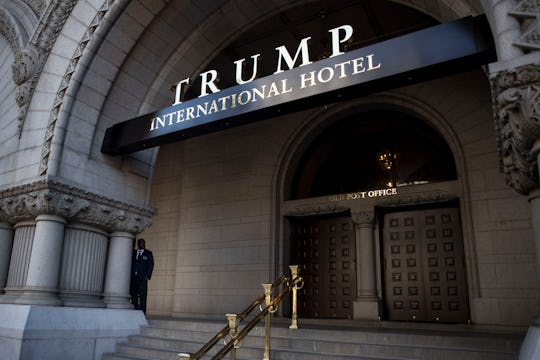 Gabriella Demczuk/Getty Images News/Getty Images
Journalists Reportedly Denied Entry At Trump Hotel
Something strange seems to be going on at the Trump International Hotel in Washington, D.C. According to a few reports from members of the media on Twitter, journalists have allegedly been denied entrance to the Trump Hotel during inauguration week. One reporter was reportedly told that media weren't allowed in the hotel; Another reporter was allegedly told that only guests were allowed in. Considering Trump's contentious relationship with the media, some are wondering: is anyone allowed to visit the Trump International Hotel in D.C., or do you actually have to be a guest?
As it turns out, it seems like anybody should be allowed to visit the hotel during a reasonable span of hours each day. According to CNN, the 60-year lease Trump has with the federal government on the hotel requires that the public have access to the property's historic areas, with the only exception being for public safety.
According to Politico, it's also against D.C. law for public places (such as hotels) to deny entrance to people based on their source of income (such as, perhaps, journalists or, you know, anyone who's not rich). When Politico reached out to Patricia Tang, the Trump International Hotel's director of sales and marketing, about the journalists' refusal, she reportedly responded:
Media is not allowed in this week in respect of the privacy of our guests.
When contacted by CNN, Tang said: "We really don't have any comment. I mean, we gave all we're going to say, which is that we protect the privacy of our guests." When asked about the possibility of a lease violation, Tang then reportedly responded, "Sir, you're not listening to what I'm saying. I'm hanging up now."
Romper has reached out to Trump International Hotel for comment, but has yet to hear back. If true, however, the media ban threatens to worsen the president-elect's relationship with journalists — one that has been strained since the days of his presidential campaign, in which he refused to grant press credentials to certain media outlets for his rallies. More recently, at his first press conference as president-elect, Trump refused to take a CNN reporter's question, opting to tell the journalist, "You are fake news!" instead.
Soon after the conference, activists began to criticize Trump's behavior. "President-elect Trump's attempt to punish a major U.S. media outlet for what he considers unfavorable coverage and his denigration of members of the press is the kind of thuggish behavior exhibited by authoritarian regimes," Suzanne Nossel, executive director of writing non-profit PEN America, told The Guardian last week.
If journalists have indeed been specifically banned from a place meant to keep its doors open to the public, that doesn't bode well for Trump's continued relationship with the media — and it hints at an uphill battle for journalists during a Trump administration.