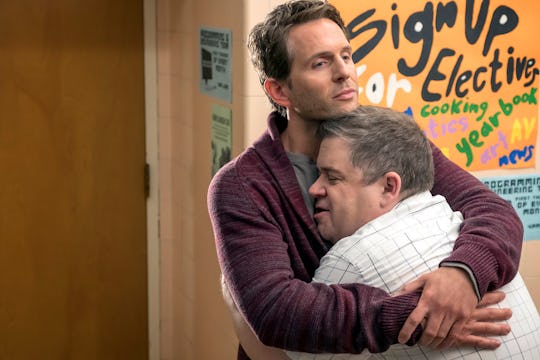 Ron Batzdorff/NBC
NBC's New Comedy Series 'A.P. Bio' Is Taking You Back To High School
An all-new comedy series is coming to NBC and it looks hilariously ridiculous. The show, titled A.P. Bio, centers around Jack Griffin, a philosophy professor who loses out on getting the Head of Philosophy position at Stanford so he decides to "teach" A.P. Bio at a high school instead. Although the premise seems a bit far fetched some may be wondering is A.P. Bio based on a true story?
Thankfully, it doesn't appear to be. The show — which stars It's Always Sunny in Philadelphia alum Glenn Howerton as Jack Griffin — is an entirely fictional story created by Saturday Night Live alum Mike O'Brien and executive-produced by Lorne Michaels and Seth Meyers. Thus, you can probably expect the same level of humor you find on SNL, which should help you determine if this is the kind of show you'd be interested in. Although from the looks of it, the show looks like it will be hilarious to just about anyone.
In the trailer, Jack makes it clear that he could care less about teaching A.P. Bio and he's really only there to use these kids to help him get revenge on his academic rival Miles Leonard. For example, because Miles is British he tasks the kids to develop a British accent. The best one to do so will pretend to be Miles birth mother (he was adopted) and reveal some Earth shattering secret to him.
While most of the students are understandably perplexed by this whole turn of events, some students seem to get behind Jack's interesting teaching methods. Still, no doubt Jack will most likely get caught failing at his job by Principal Durbin, played by Patton Oswalt. In the trailer, he's seen reminding Jack that he can't just leave his students unattended. However, Jack argues that if they're old enough to get pregnant, they should be old enough to be left alone. Of course, the principal then informs Jack that's exactly why these teens need to be supervised.
It's not only his students that Jack will fail to make connections with, however. He also won't be popular amongst the other teachers either. Jack doesn't hide the fact that he feels he's better than everyone in the high school and that to teach at a high school in Toledo, Ohio, where the show is set, is incredibly sad. But it's pretty obvious that Jack isn't there to make friends. He's solely there to bide his time until he can take down Miles and get the job he believes he deserves. Jack is a Harvard grad and award-winning philosopher, after all. If you ask him, he deserves way better than what he's got.
Still, one has to wonder why he got passed over for that job in the first place and how he ended up teaching A.P. Bio. Of course, Jack is going to say what's happened to him was unjust, but was it really? Surely the show will dive into that and provide a little more about Jack's past. It also wouldn't be surprising if Jack came to love his high school teaching gig and against his better judgement actually does end up learning something from his students a la School of Rock-style.
The series gives me serious Community vibes, with Jack being the Jeff Winger character who lost his job (or in Jack's case, never got it) and is pretty pretentious and looks down on everyone around him. Of course, this show takes place in a high school, not a community college so there are some clear differences.
Regardless, it looks like this new show could be a new comedy hit for NBC. You can catch a special preview of the first episode Thursday, Feb. 1 at 9:30 p.m. ET before the show officially premieres in March. You won't want to miss it!
Check out Romper's new video series, Romper's Doula Diaries:
Watch full episodes of Romper's Doula Diaries on Facebook Watch.