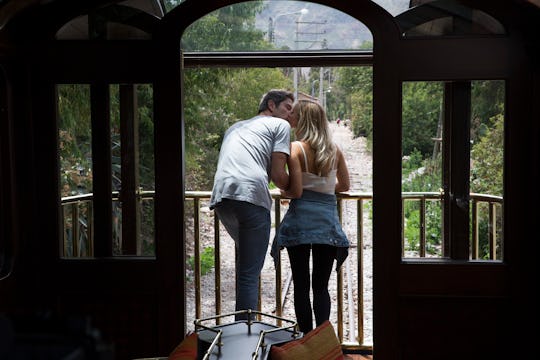 Paul Hebert/ABC
What's Going On Between Arie & Lauren Right Now? 'Bachelor' Nation Needs Answers
Well, Bachelor Nation is witnessing one of the most intense finales ever. Arie initially proposed to Becca, but he broke off the engagement just weeks later because he couldn't stop thinking about Lauren. But how does she feel about the matter? Is The Bachelor's Arie with Lauren now? He initially dumped her for Becca, but after reflecting for some time (aka a few weeks) he realized that he actually wanted to be with Lauren. After seeing the uncut breakup scene, and considering he didn't choose her the first time, will Lauren take Arie back?
As of Monday night's finale, viewers know that Arie initially broke up with Lauren and proposed to Becca. The timeline is a little murky, but it seems that several weeks later he grappled with the decision to now break up with Becca. Why? Because he'd rather be with Lauren. I suppose all this talk of Arie falling love with two women was foreshadowing for this moment, but it was still shocking to see in real time. Throughout the first hour, when Arie's family met both of them, it was clear that he didn't know which one to choose. The family preferred Becca, so that may have been the tipping point for him... but he had almost instant regrets.
Arie had an emotional breakup with Becca, all for Lauren. So after all this, did Arie actually get back together with Lauren? There are apparently clues that yes, Arie and Lauren are together. Up until January 16, Lauren didn't share photos with Arie on social media. Instead, she posted a photo (of her alone) with a caption about her "quest to find love" on The Bachelor. There may have been a turning point around that time — perhaps this is when Arie ended his engagement with Becca and went to mend his relationship with Lauren.
After January 29, that is the point where Lauren began sharing photos of her and Arie from the show. On February 19, Lauren posted a photo of she and Arie making out with the caption, "I'm not HORSING around...I SEA something happening here." Now, I may just be thinking this because I may be thinking about them together, but if they weren't at this point I don't think this is the caption Lauren would go with. "I see something here" heavily hints that their relationship is still alive and well. Usually when contestants share photos of them with the lead at that point, captions aren't that suggestive.
What's more, Arie hinted on his Twitter that they are together. On February 20, he quote tweeted someone comparing Lauren's family to vanilla ice cream flavors, to which he responded "My favorite flavor." (The original tweet has since been deleted, but Arie's is still up). This was just a couple weeks ago... and Arie called Lauren "his favorite flavor." Yup. I think they are back together.
Of course, I can neither confirm or deny these theories. For now, Bachelor Nation will have to wait until After the Final Rose to see what happens with those two. Monday night, Chris Harrison left viewers with an ominous note, saying that Becca and Arie will reunite on Tuesday for the second part of the finale. Hopefully, Arie is respectful towards Becca — especially if he and Lauren are back together.
Who knows what will happen months and years from now. Arie "pulled a Mesnick," referring to Season 13's Bachelor Jason Mesnick, who broke up with his winner and got back together with the runner-up. Though it turned out pretty well for him. He ended up marrying the runner-up, Molly, and having two kids with her. That's a long ways away for Arie, though. Tuesday night, we'll find out where he and Lauren stand.
Check out Romper's new video series, Romper's Doula Diaries:
Watch full episodes of Romper's Doula Diaries on Facebook Watch.