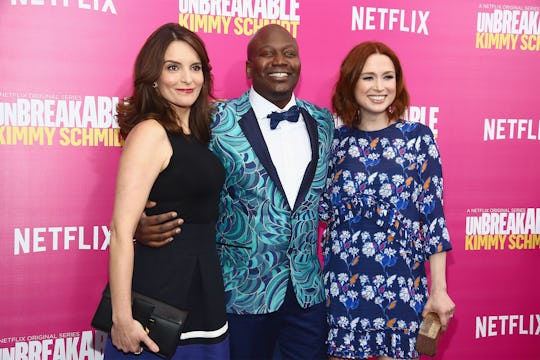 Astrid Stawiarz/Getty Images Entertainment/Getty Images
Is Art Smelly Real On 'Unbreakable Kimmy Schmidt'? There Could Be More To It
So it's been a few days and you've already finished the second season of Unbreakable Kimmy Schmidt. Welcome to the club. It was over as quickly as it came, but, it's still available to marathon over, and over, and over again. If you're re-watching the season again, you might come upon the title card towards the end of the season that says "In Memory of Art Smelly." If you didn't pay close attention, you might have missed who he is, and if Art Smelly is real on Unbreakable Kimmy Schmidt. If that's what you're wondering, then you're not alone.
There are a lot of hidden secrets in Unbreakable Kimmy Schmidt. The Easter eggs are insane — thanks to Tina Fey and Robert Carlock. And, there's a very good chance that Art Smelly is another example of one of those Easter eggs. Here's what we know about the character.
Art Smelly never gets any face time, but he is mentioned by Titus in the final moments of Episode 9. Art Smelly, on the show, is a parody musician based off of R. Kelly (probably), who has a "not-so-hit" song "I'm Convinced I Can Swim." The song is a riff off of "I Believe I Can Fly," and can be found on the fictional album Now That's What Sounds Like Music.
One Twitter user pointed out that Art Smelly could be inspired by Tina Fey's late father, Donald Fey. Donald Fey died in 2015 and was 82-years-old. Depending on his birthday, it is very possible that her father was born in 1932. Although Tina Fey hasn't confirmed this theory, it wouldn't be all that surprising, since she is the master of adding hidden hat tips throughout her episodes.
Tina Fey told Philly.com after her father's death "He was a great dad and a talented artist and writer, but I also think of him as a Great American - he served his country in Korea, he served his city as a fireman, he took his kids regularly to art museums and historical sites." It sounds like he was a great guy, so it wouldn't be surprising if it was meant for him.