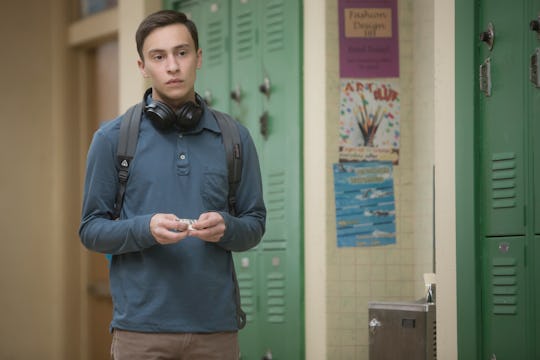 Patrick Wymore/Netflix
Is Netflix's New Series 'Atypical' Based On A True Story?
Atypical is an upcoming Netflix dramedy that focuses on a teenage boy named Sam, played by Keir Gilchrist, who is on the autism spectrum. It follows Sam's coming of age as he deals with the usual teenage problems: school, family, dating, and figuring out his place in the world. It may sound like the kind of story that could easily be plucked from real life, but is Atypical based on a true story?
Quite simply: no, it's not. Atypical is a fictional series that isn't based on any particular real person, though its story may resonate with viewers who share the characters' experiences. Created by Robia Rashid (who has also worked on The Goldbergs, How I Met Your Mother, and Will & Grace), the series stars Jennifer Jason Leigh and Michael Rapaport as Sam's parents, alongside Brigette Lundy-Paine as his sister and Amy Okuda as his therapist. It makes its debut on Netflix on August 11.
Despite the fact that Atypical is a wholly fictional story, aspects of it might be familiar. It deals with typical sitcom conventions like awkward situations and dating misadventures, as well as Sam's family adjusting to his newfound independence. And while critical response has been mixed about how accurate the series is to someone living with autism, Gilchrist promised their intentions were good.
"I understand the concern fully," Gilchrist told Salon.com when asked about worries relating to the show's authenticity. "I totally get it, in terms of like I could see how this could go very wrong and misrepresent a group of people. But I would hope that people would realize we never had any intentions of doing anything but really like doing something that felt true and real and then a lot of people's opinions went into it."
While Atypical may not be telling anyone's biographical story, Gilchrist's comments (and the show's synopsis) indicate that it intended to be realistic about the lives of Sam and his family. Netflix's announcement reads: "[Sam's] funny yet painful journey of self-discovery upends his entire family, forcing them all to grapple with change in their own lives as they struggle with the central theme: what does it really mean to be normal?"
That's a story that has been posed by media many times before; though the title may imply otherwise, it seems like Atypical might tell a fairly typical story after all.
Atypical is not based on a true story, but it may still reflect enough real emotion to keep audiences hooked.