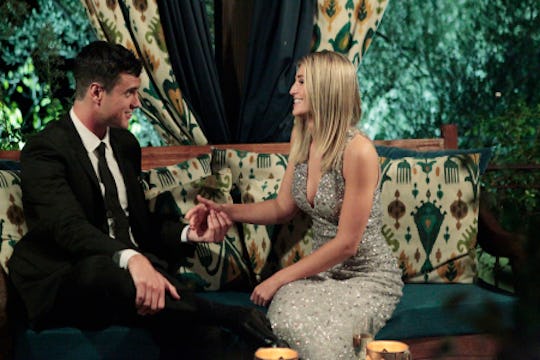 ABC/Rick Rowell
Is 'Bachelor's Olivia Going Home? Her Las Vegas Breakdown May Have Done Her In
Despite early sparks between Bachelor's Ben Higgins and contestant Olivia, the 23-year-old erstwhile news anchor had her rockiest week to date during Monday's Las Vegas episode. The contestant went from boldly declaring at the outset that Ben was "her piece" and that she didn't feel threatened by other one-on-one dates, to being plagued with doubts, unable to watch Ben kiss another woman (and making pointed, mopey comments about it in the cutaway interviews), and having a full-blown panic attack. Given everything that happened on the out of town trip (and afterward), could Olivia be going home soon?
Things first started going south during the group date "talent show," in which Olivia — a little clueless as to what her performance should be, but confident in her ability to laugh through it regardless — decided to put on the most ridiculous outfit in the silly costume wardrobe and do a Vegas showgirl act. She looked beautiful in an elaborate headpiece, a scant, sparkly, glorified bikini, and thigh-high stockings, and she even had a great set piece — a giant cake to jump out of!
Unfortunately, Olivia bombed her execution, and wound up giving a half-assed, awkward, dismissive performance. It was clear that what mattered to Ben was the women's ability to laugh at themselves and really put their hearts into their talent act — which is why Lauren B. singing in a chicken suit seemed totally endearing to him. Olivia had much more going for her, but she looked as self-conscious as she felt. She managed to hold it together till the end of the performance, at which point, she broke down and had the "panic attack" promos had been teasing us with all season.
"I knew he was mortified, so that was like, really embarrassing," Olivia said when she got off stage. "I just knew when he hugged me, it was a pity hug .. I'm here to be marriage material and I don't think I screamed marriage material."
Rather than chalking up the moment to an awkward bit of stage fright, Olivia hunted Ben down during the group date cocktail party (twice) to apologize to him for her performance. Sadly, she failed to articulate her feelings of embarrassment, and basically just apologized for being an awkward and unsexy person.
Ben, like any good Bachelor, gently let Olivia know that self-attacks weren't cute or necessary. "I don't need you to apologize to me for jumping out of a cake," he told her when she cornered him for a talk about it at the rose ceremony. "I don't need you to tell me 'I'm so awkward,' because you're not awkward to me."
The damage seems done, with Olivia getting the last rose of the night, and Ben's pained expression while giving it to her. Will she survive the next rose ceremony? The promos for next week's episode already look bleak with the women finally beginning to report Olivia's erratic behavior to Ben, and the bachelor himself seemingly beginning to sense it, too.
Stay tuned for more drama.
Images: ABC/Rick Rowell