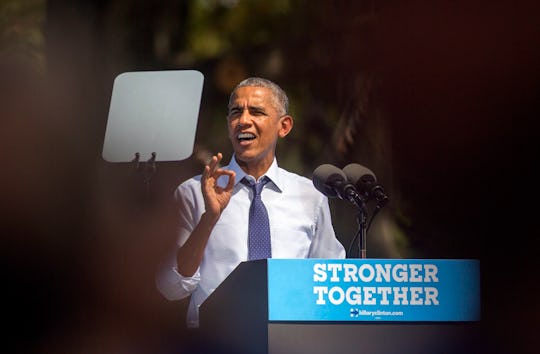 Jessica Kourkounis/Getty Images News/Getty Images
Is Barack Obama At The First Presidential Debate? He Remains A Staunch Clinton Supporter
Given President Barack Obama's unwavering support of Democratic presidential nominee Hillary Clinton, it's not surprising that many wondered if President Obama would be at the first presidential debate on Monday. But despite his frequent appearances on the campaign trail, Obama did not plan to attend the debate at Hofstra University in Hempstead, New York. And, just as expected, he was not there.
Obama's absence was pretty much a given, actually. It's atypical for sitting presidents to attend the debates, and as such, his presence would have raised eyebrows. Obama has shown his support for Clinton in a variety of other forums, though, most notably during his dramatic speech at the Democratic National Convention in Philadelphia this July. During the powerful, 45-minute tribute to his former opponent, Obama testified to the strength and steadiness of Clinton's character, telling the crowd that, "no matter how much people try to knock her down, she never, ever quits. That is the Hillary I know."
And with that speech, Obama hit the ground running on the campaign trail. Soon after the DNC, NBC News reported that Obama's speech was "the grand opening of his highly unusual role in the 2016 presidential campaign. Rarely is there such an alignment between a sitting president and his would-be successor."
But during the debate on Monday, Obama had his attentions focused elsewhere. According to U.S. News & World Report, White House spokesman Josh Earnest told reporters that Obama would be "working" during the debate, though he would have it turned on "in the background." Reportedly, this will be a departure from Monday Night Football, which usually serves as White House background noise. So Obama's making sacrifices here.
Obama's probably relieved that he's not expected to suffer through the pomp and pageantry of the debates, not least because he might be reminded of his own lackluster performance during his first debate against then-presidential hopeful Mitt Romney in 2012. According to a humorous remembrance of that debate published this week at CNN, "The sheer panic Democrats felt in 2012 after Mitt Romney demolished Barack Obama at their first presidential debate in Denver can't be overstated." During that debate, Obama looked bored, disengaged, and weirdly contemptuous, while a very prepared Romney presented himself to voters as a moderate — not the conservative businessman that many knew him to be. "We kind of counseled (Obama) not to engage too much. He took that to the extreme," former Obama strategist David Axelrod told CNN.
If reports about Clinton's preparation for this week's debate are to be believed, she was far more prepared in 2016 than Obama was in 2012. According to The New York Times, Clinton had prepared a "thick dossier on Mr. Trump after months of research and meetings with her debate team, including analysis and assumptions about his psychological makeup that Clinton advisers described as critical to understanding how to knock Mr. Trump off balance." This level of preparation aligns with her admirable performance at the debate, which was televised nationally on the major network channels as well as on CNN and Fox News.
The first presidential debate certainly held the nation's attention, and while Obama himself perhaps didn't pay as much attention, at least we know it superseded his usual date with Monday Night Football.