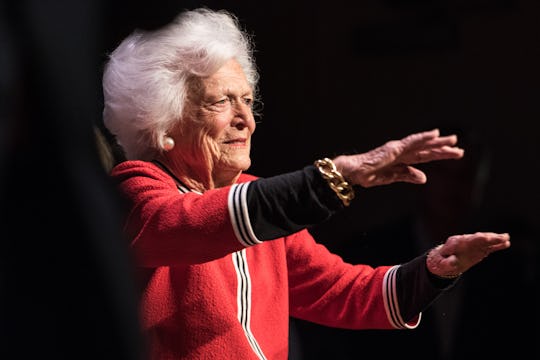 Sean Rayford/Getty Images News/Getty Images
Was Barbara Bush Sick Before She Was Hospitalized?
After former president George H. W. Bush was admitted into Houston's Methodist Hospital, in the intensive care unit, news broke that his wife had also been admitted. Reports showed that the former first lady was suffering from "fatigue and coughing," according to the Associated Press, which spoke with a family spokesperson. It's unclear whether former first lady Barbara Bush is sick, but so far, the 91-year-old has stood strong by her husband, as he battled a kind of Parkinson's disease, and more recently, a case of pneumonia.
In the past, it has been Barbara's husband's health that has been the source of news headlines. In fact, last December, it was announced that neither George HW or Barbara will be attending the inauguration of Donald Trump as the 45th president. However, the reasons stated for this decision were that George's health and age–he's 92–were in too precarious a state to travel such a long distance. George, who uses either a wheelchair or scooter to get around due to his Parkinson's, has been hospitalized many times in the past, suffering a neck injury in 2015, shortness of breath in 2014, and possible bronchitis in 2012.
However, as the extent of the Bush's conditions aren't known, many Americans are worried for the well-being of the 41st president and his wife.
Barbara, it seems, was hospitalized for completely separate issues than that of her husband, who has been in the ICU since Saturday. According to CNN, George was taken in for "an acute respiratory problem stemming from pneumonia. Doctors performed a procedure to protect and clear his airway that required sedation." Now, though, his spokesman is positive about Bush's condition, saying that the former president was set to be released soon.
Barbara, on the other hand, was only just admitted to the Texas facility today, and no update has been released on the seriousness of her condition. It's also unclear as to the source of her fatigue and coughing, and whether they were brought on by the stress of her husband's hospitalization, or something else.
As of Jan 6, the oldest-living American president and his wife have been married for 72 years, and it's clear their love is strong. The two have raised six children together, as well as been the grandparents of 14 to date. Their love story dates far back, with Barbara famously saying "I married the first man I ever kissed. When I tell this to my children, they just about throw up."
And while we await updates on the couple's health, we send them, and the entire Bush family, our thoughts and prayers.