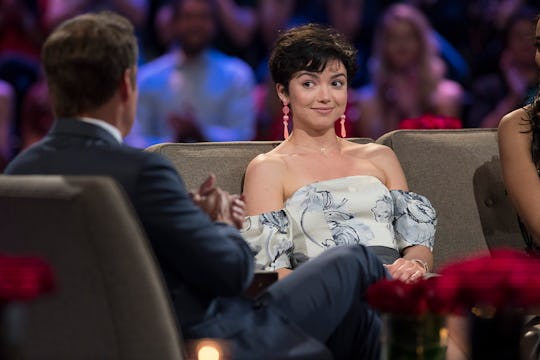 Paul Hebert/ABC
There's A Real Good Chance Bekah Will Be On 'Bachelor In Paradise' This Summer
Now that the new season of The Bachelorette is underway, fans are already imagining who they'll see on Bachelor in Paradise come August. Since she was such a fan favorite, will Bekah Martinez be on Bachelor in Paradise? I may be biased — because Bekah was my favorite contestant from Arie's season — but I really hope so.
Bekah was somewhat of a controversial candidate even before The Bachelor began in January. Bekah's official ABC biography didn't list her age, so Bachelor Nation was buzzing over how old (or young) she was. This was especially true because Arie was one of the oldest Bachelor contestants at 36 at the time of filming. The minimum age to be on The Bachelor is 21, and internet sleuths quickly deduced that Bekah was 22 at the time of filming.
Her age turned out to be a big deal on the show; Arie couldn't seem to get over that he was 14 years older than her. Right before hometown dates, Arie eliminated Bekah and she later said she had no idea her age would be such a big deal. "I had to talk about my age a lot on the show and I kind of figured this might be a big narrative, but I didn't realize how big," she said in an interview with Us Weekly. "I didn't know my age wasn't going to be shown until I saw the cast list."
Well, since she wasn't the one to win Arie's heart, and she wasn't picked for The Bachelorette, she could still have a chance to find love on an ABC show: Bachelor in Paradise. This show is a little different than the two: alums from different Bachelor and Bachelorette seasons (but most often the most recent ones) come together to pair up at a Mexican resort. If that sounds amazing, it's because it is, and is sometimes more fun than watching the other two shows because everyone has the potential to find someone, not just one lead.
Because it's such a party, I'd love for Bekah to be on Bachelor in Paradise. Back in February, Bekah said she'd be open to going to Paradise (or even becoming the Bachelorette). She told ET, "There's so many opportunities that are coming my way, and so despite getting dumped, which sucks, it's awesome to have so many new opportunities just coming from all angles... Maybe Paradise, I'm not sure."
Both Bekah and her friend/fellow Bachelor contestant Kendall Long were asked about Paradise in March, but they didn't have a sure answer yet either. At the time, The Bachelorette was still filming and they said Paradise begins filming in June. Well, the time is now! Bekah made it seem like a definite maybe, telling Vulture, "They just started reaching out to people. We'll probably be on it. We're excited because who knows who's going to be coming from Becca's season."
Not only did she seem positive about going on Paradise, but Bekah also had a crush on one of Becca's contestants before the season even began: Ryan Peterson, aka the banjo player from After the Final Rose. Bekah revealed said crush on former Bachelorette contestant Eric Bigger's podcast after the special aired. The jury's still out over whether Ryan will be on Paradise for that twee match made in Chris Harrison heaven, but Bekah seems geared up and ready to fly down to Mexico.
There hasn't been an official announcement, but unless something drastic changes I'm sure Bachelor Nation will be seeing Bekah on this season of Bachelor in Paradise. Since filming begins around now, she may already be in a bathing suit, sipping on a margarita, and finding the love of her life.