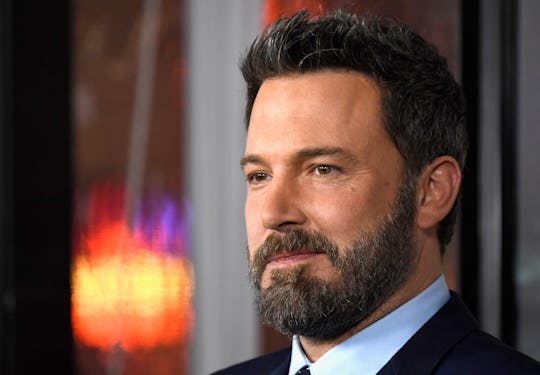 Frazer Harrison/Getty Images Entertainment/Getty Images
Is Ben Affleck At The 2017 Oscars?
Matt Damon and Casey Affleck are both on hand at the 2017 Academy Awards for their work on the film Manchester By the Sea, but noticeably missing is the third member of their triumvirate. So is Ben Affleck at the 2017 Oscars? If he is, he's flying under the radar.
Ben Affleck has won two Oscars, one for Best Original Screenplay in 1998 for the film Good Will Hunting and one for Best Picture in 2013 for Argo. He did make two movies last year, Batman v. Superman and Live By Night, but, being of the superhero and, uh, massive flop variety, respectively, he wasn't much of a contender this year. Conversely, Damon and Casey Affleck's work together on Manchester By the Sea has been showered with accolades, thanks to its dually helpful lily-white cast/storyline and writing/direction by Kenneth Lonergan. Damon is nominated for Best Picture for producing the film, while Casey is nominated for Best Actor. He's recently won a Golden Globe and a BAFTA Award for the role, in addition to garnering an Independent Spirit Award nomination. This is his second Oscar nomination after 2008's Best Actor nod for The Assassination of Jesse James by the Coward Robert Ford.
Ben most recently presented at the Oscars in 2015, but, per the recently released official presenters list for 2017, it looks like he won't be getting on stage at all tonight.
There's a small chance he may still somehow be involved with the show, given that Jimmy Kimmel is hosting, and the two have a deep history of teaming up together for bits. In fact, Ben helped him with a 2016 Batman v. Superman sendup as part of Jimmy Kimmel Live's 2016 Oscars special, in preparation for the big night on the show's home network ABC.
We've seen a lot of big production opening numbers this awards season, thanks in part to La La Land's popularity and seemingly boundless spoofability. But the Oscars kept it reserved with an upbeat Justin Timberlake performance of his nominated song "Can't Stop The Feeling," followed by a pretty straightforward and traditional opening monologue by Kimmel. The first-time host has already done a bit with Matt Damon, with whom he shares a longtime fake rivalry, but we still haven't seen Ben. He may come out for a joke later, but it looks like he's letting his little brother Casey take most of the spotlight on his big night.