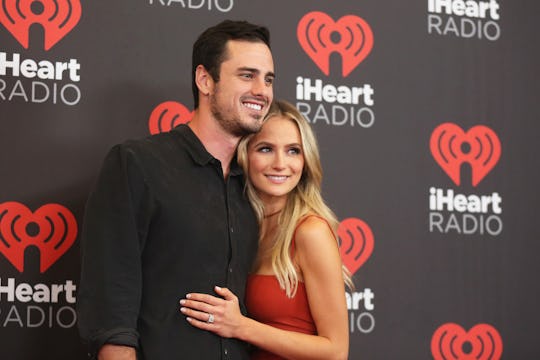 Isaac Brekken/Getty Images Entertainment/Getty Images
Is Romance In The Air For Ben Higgins On 'The Bachelor Winter Games'?
The official reason anyone goes on a Bachelor show is to find love. And former Bachelor Ben Higgins thought he'd found that — until he and his former fiancée Lauren Bushnell broke up, that is. So he apparently decided to give the TV method another try with a new Bachelor spinoff show. But did it work? Is Ben Higgins dating anyone after The Bachelor Winter Games? To say outright whether or not the show worked for him would be a clear spoiler (and probably a breach of some contract) so I can't say for sure. But if I had to guess about Ben's relationship status at this very moment, I would venture that he's probably still single. So if anyone's interested, go get him. I believe he lives primarily in Denver.
Over the course of the past year, Ben has had to answer a lot of questions about his relationship status. He broke up with Lauren B. in May of 2017, and just a few months after the split, she began dating seriously again. She's posted lots of pictures of her new man on her Instagram, letting the world in general know on no uncertain terms that she is doing just fine for herself. Ben, on the other hand, hasn't yet found the perfect woman for him — that we know of.
A close reading of the former Bachelor's social media accounts seems to indicate that he's still a very single dude. Ben posts a ton about The Bachelor, about his endearing friendship with Ashley Ioconetti, his charity work, meeting kids from the Make-A-Wish Foundation, his coffee company whose stated mission is to make the world a better place, and sometimes even his love of hotel bathtubs. It's this last post that raises just a few questions for me. Ben posted a photo of himself in the bathtub at Planet Hollywood in Las Vegas, joking that he's a connoisseur of hotel bathtubs. My question is, obviously, who took the photo?
Ben doesn't say, but in every interview since his breakup with Lauren, he's said that he hasn't really been ready to date. It was obviously an important relationship for him, and sometimes that takes some time to move on from. There is, of course, the possibility that he found a new life-partner while on Bachelor Winter Games, though something tells me that's not the case.
In promos for the show, Ben is seen tearing up when talking about Lauren, and admitting that he's still struggling to move on from it. I'm sorry but that doesn't sound like someone who's ready to fall deeply in love with anybody else quite yet. In an interview with Us Weekly, all he would say was that he "took steps" in the love department, without revealing how big those steps were.
On his Twitter account, Ben wrote about The Bachelor Winter Games, teasing that "by the end leads to some really incredible relationships both friendly and romantically. This is quite the experience." Now that is maddeningly vague. In response to rumors that he and his podcast cohost Ashley I. hooked up on the show, he adorably misunderstood the meaning of the word "snog." He tweeted, "I don't know what snogging is but whatever it is yes you did. Tune into see us 'snog.'" For what it's worth, to the same tweet Ashley I. wrote, "Ummm no lol."
Perhaps the clearest answer to this query came during an interview with Access Hollywood.
In answer to the question, "Are you 100 percent single?" Ben responded that he had just started going on dates again. "I'm dating, but I'm not in a committed relationship." The interview takes place before Winter Games but it doesn't really sound like he's ready for "love love" so much as he's ready to entertain the idea of love happening at some point maybe soon.
So, there you have it folks. He's (probably) still on the market, and he's (definitely) still quite a catch.
Check out Romper's new video series, Romper's Doula Diaries:
Watch full episodes of Romper's Doula Diaries on Facebook Watch.