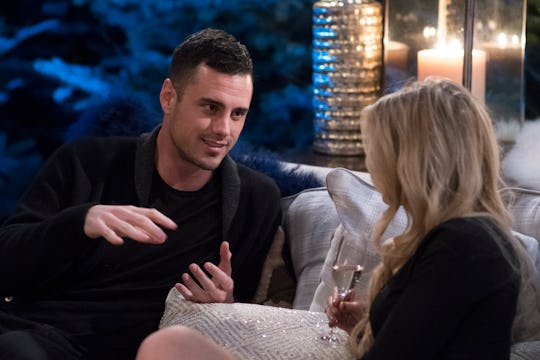 Lorenzo Bevilaqua/ABC
Ben Higgins Isn't Having Much Luck Finding Love On 'The Bachelor Winter Games'
Viewers are already deep into The Bachelor Winter Games and it looks like Ben Higgins has yet to find a romantic partner among the international Bachelor veterans assembled in the Vermont mansion. But will that be the case the whole time he's there? Is Ben Higgins single after Bachelor Winter Games? After ending his engagement to Lauren Bushnell, it looks like this handsome and charming guy is still looking for "the one." Being me, I just hope that he continues his search this summer on Bachelor in Paradise, which is low-key the best Bachelor show in existence.
I doubt that Ben found love on Winter Games for several reasons, but the main one is that the show has given us zero previews even hinting that Ben might be making out with a sexy international. Instead, it has shown again and again that clip of Ben choking back tears as he talks about moving on from Lauren and where their relationship went wrong. Look, I don't claim to be a relationship expert or anything, but crying about your ex doesn't exactly scream READY FOR LOVE in my book. But you know, give me a call when you're over her, Ben Higgins. But of course there are other reasons I suspect that Ben didn't find his soul mate on Winter Games.
In an interview with Us Weekly, Ben gave a pretty cagey response to the question of whether or not he formed any relationships while in the house. He said:
I made a lot of good relationships from when I stepped into the house to the time I left. If you ask me, 'Did I take steps in the romance department?' I definitely did. There's not a question in my mind that there were steps made.
That's not a very clear answer one way or another, but my close reading of the comment suggests that he made a lot of friends but not much more than that. After all, Ben is classifying "relationships" as all the relationships he made in the house, be they romantic or otherwise. He also said he took "steps" in the romance department, which sounds more like he's getting ready to date rather than having actual found a potential partner, don't you think? He clarified by adding, "I may or may not have [found love]. For me, personally, there was huge steps made. I'm excited for people to be with me in that story, through television." Thanks for the non-answer, Ben.
Obviously he's not allowed to say definitively one way or another whether he was struck by Cupid's arrow in the house, but I'd say not. As far as whether he's dating anybody outside the small world of Bachelor contestants, there are rumors but Ben has not confirmed anything. His Instagram and Twitter pages are certainly those of a very busy and very single guy. A rumor has been swirling around since the summer that he was dating Lindsey Duke. Duke has been linked in the past to other Bachelor alums including Robby Hayes, who was accused of cheating on Amanda Stanton with her, and Jef Holm, who won Emily Maynard's season of The Bachelorette. But seeing as neither involved party has confirmed or denied the relationship, it's still just a rumor.
I guess we'll just have to wait and see if he announces any sort of relationship after Winter Games is over. Or maybe he'll turn around one day and discover that his good friend Ashley I. is actually the woman of his dreams. One can only hope.
Check out Romper's new video series, Romper's Doula Diaries:
Watch full episodes of Romper's Doula Diaries on Facebook Watch.