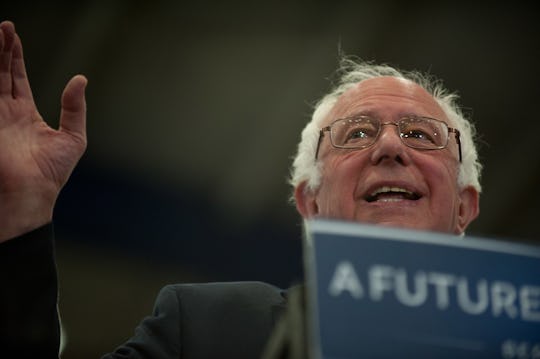 Jeff Swensen/Getty Images News/Getty Images
Is Bernie Sanders A Grandfather? He Has 7 Reasons To Care About The Nation's Future
At the annual White House Correspondents' Dinner Saturday night, the event's comedian host, Larry Wilmore, took a jab at the "old" age of Democratic presidential hopeful Bernie Sanders. "He usually goes to the White House Correspondents' early-bird dinner," Wilmore said of the 74-year-old Vermont senator during his monologue. While it's true that Sanders is the oldest candidate in the race and that his opponent, Hillary Clinton, has all but clinched the Democratic nomination, his enthusiasm and far-left principles have endeared him to and energized voters under 30. Considering his success with this voting bloc and with so many young people "feeling the Bern," it makes sense to wonder: Is Bernie Sanders a grandfather?
Sanders hasn't talked much about his family during the campaign, but he does indeed have grandchildren, and he has quite the repertoire of family-given nicknames to prove it, including Grandpa Bernie, Grandpa Bern, and even Bernster, People reported. Although he is not related by blood to any of his seven grandchildren, Sanders is very much the family man, and not, as one lighthearted Washington Post article may lead one to believe, a "grumpy grandpa." In fact, Sanders' wife, Jane O'Meara, told People in January that one of the senator's grandsons is particularly disturbed by that media depiction.
"They said he's a grumpy grandpa. He is not! He's a fun grandpa," O'Meara, quoted Cole, then 11, as saying earlier this year.
I, for one, am with Cole on this one. Consider exhibit A:
Yes, on Halloween last year, Sanders accompanied three of his grandchildren trick-or-treating in a New Hampshire neighborhood. Sanders' only biological child, Levi, and his wife adopted the kids — Sunnee, Ryleigh, and Grayson — from China. On Halloween, the 12-, 10-, and 9-year-olds, respectively, even got the chance to join him onstage earlier in the day to wave to supporters during a town hall meeting. (Best town hall meeting ever.)
Sanders married his current wife, Jane, in 1988, and from that union gained three stepchildren. Now, he has four step-grandchildren as well. Which brings me to exhibit B:
That's the Bern with Dylan and Ella. In January, People's Sandra Sobieraj Westfall visited the Grandpa Bern's home in Burlington, Vermont, where Sanders happily played "Monster" with the two, growling and chasing after them, she reported.
To be clear, the home was literally "littered with evidence" that Bernie is anything but a grumpy grandpa. Behold, exhibit C, straight from People:
[A] kiddie electronic keyboard tucked beneath the kitchen counter, the pink plastic play kitchen crowding the doorway to the foyer, the swing set, baseball bats and wiffle balls on the back lawn.
Maybe Sanders does like a good early-bird special once in a while. (It's also possible that he eats at 10 p.m. every night as though he lives in Barcelona. I wouldn't be surprised, because I imagine #campaignlife to be quite hectic.) But the point is that he clearly has a reason (or seven, to be exact) to be so deeply invested in our nation's future — and that's all the more reason to lend him your ears, even if he never wins the nomination.