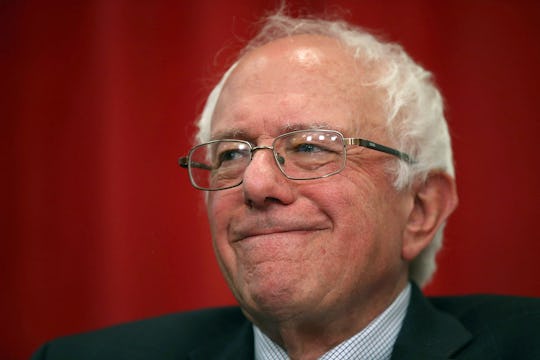 Justin Sullivan/Getty Images
Is Bernie Sanders Watching The Fourth Republican Debate? #DebateWithBernie Is The Best Part Of The Night
The Republican presidential primary debates have produced plenty of explosive moments and the fourth GOP debate promises to deliver more of the same. Without a doubt, millions of viewers will tune in on November 10 to watch the GOP's top contenders (and the JV squad) as they try to topple the frontrunners or break away from the pack as the candidate best suited to lead the party to the White House. But the most enjoyable quotes of the second GOP debate came from Twitter, as Democratic presidential candidate Bernie Sanders live-tweeted his musings on the issues the candidates covered — and ignored — to his 780,000 followers. So, before I plan my watch party, I need to know: Is Bernie Sanders watching the fourth GOP debate? 
And can I count on him for the heavy dose of sarcasm that I'll need to get through another two hours of Republican talking points? Tonight, the top Republican contenders will meet at the Milwaukee Theater in Milwaukee, Wisconsin for the fourth primary debate. Hosted by FOX Business News and the Wall Street Journal, the discussion will center around "jobs, taxes, and the general health of the economy," according to Fox Business News.  
Where the Republicans stand on economic issues is incredibly important because the party controls Congress right now, and that's unlikely to change before 2020. With a friendlier Congress, a Republican president would be well-positioned to push through more of the GOP's economic agenda.
With tax policy and jobs finally on the agenda, Sanders should have plenty to add to the discussion. During past debates, the liberal candidate took to Twitter to express disappointment that economic inequality and tax reform were missing from the list of topics. It would be interesting to read his real-time reactions to what the Republican candidates have to say on the nation's economic future.
And apparently, I'm not the only one who enjoys watching the debates along with Senator Sanders. Sanders' commentary was the most popular on social media during the second debate. Toward the end of the evening, the Vermont senator tweeted: "It's over. Not one word about economic inequality, climate change, Citizens United or student debt. That's why the Rs are so out of touch." Sanders' tweet was retweeted more than 20,000 times that evening and more than 36,000 times in the days following the debate.
So now that we know which candidates will be on the stage in the fourth GOP debate, all that's left is to confirm whether Sanders will host his own Twitter watch party.
Image: Justin Sullivan/Getty Images