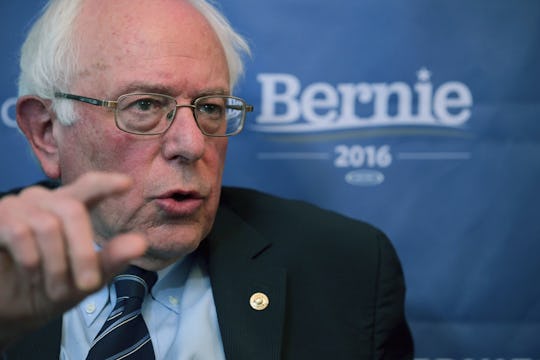 Is Bernie Sanders Watching The GOP Debate? Most Likely, & Hopefully He'll Be Live-Tweeting It Too
With the next GOP debate coming up on Tuesday, December 15, there will be lots of things we'll be looking out for. Who will be on the main stage based on poll standings? How will issues like the San Bernardino shooting be handled? Just how much is Donald Trump going to be grilled about his comments on barring Muslims from entering the country? Will Democrat candidate Hillary Clinton be tuning in? Will Bernie Sanders watching the GOP debate? And will the Bern be continuing his tradition of adding in his unique brand of Twitter commentary by live-tweeting the event (please say yes, please say yes)?
Self-described democratic socialist Sanders has previously made a point of watching the Republican debates in real time along with his Twitter followers, offering his perspective (and, at times, sarcastic comments) based on the candidates' responses. Unlike Clinton, who has said she doesn't usually watch the debates live, preferring to watch highlights with her team after it's ended, Sanders' supporters have come to expect hearing from the candidate himself on debate night, either from the stage during Democratic debates or over social media during GOP debates. And if there's one thing we've learned from his live-tweets, it's that he's pretty skilled at forming 140-character responses.
Some of the highlights from his previous #DebateWithBernie live-tweet efforts have been pretty note-worthy:
And they're usually a big hit with followers:
But even if he does live-tweet Tuesday's debate, there's no guarantee he'll make it to the end. During September's debate, Sanders couldn't quite handle sitting through the entire three-hour broadcast:
Whether or not Sanders decides to chime in on this debate or not, he'll get his chance to share his opinions officially, at the next Democratic debate in New Hampshire on Dec. 19.
Image: Chip Somodevilla/Getty Images News