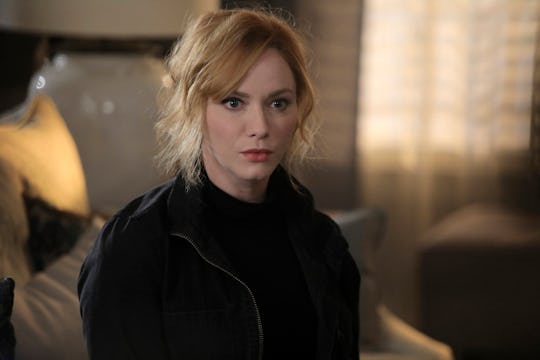 Josh Stringer/NBC
Christina Hendricks' Character On 'Good Girls' Will Make You Feel Empowered AF
Christina Hendricks stars as one of the three leads of NBC's upcoming dramedy Good Girls, which follows three suburban moms in desperate financial straits who decide to rob a supermarket safe to solve their many problems. Hendricks plays Beth, who finds out her husband is cheating on her and may have also lost all of their family's money. But is Beth from Good Girls based on a real person? Her story sounds like something you'd see in the first 15 minutes of Snapped, so it's totally possible.
Possible, but not the case: Beth isn't based on a real person, even if her story does seem like something that could happen. Series creator Jenna Bans talked to Variety about her inspiration for the show, which had a lot to do with the 2016 election and how women were being discussed in the media at that time. Each protagonist's home life features difficulties that people deal with every day, like cheating spouses, not being able to pay bills, or struggling with healthcare. While those elements might be relatable because they feel pulled from real life, none of the three main characters are based on actual people. And the wild plan they come up with to commit a robbery is definitely outside the realm of believability.
According to Hendricks, it was the more realistic aspects of the show that appealed to her, including the friendship between the three leads (besides Hendricks, the show stars Retta and Mae Whitman). While speaking to USA Today, Hendricks said:
Retta and I talked about that all the time, like, 'Your real girlfriends will call you out on stuff, but they'll always be there for you.' That's what I liked about the script: It was real and wasn't cloyingly sweet. They fight. They say, 'That's a horrible idea.' But at the end, they're like, 'Whatever you decide, I'm going to make sure you're safe, you're protected and you know you're loved.'
Hendricks' Beth is a mother of four who is suddenly blindsided by her husband's philandering. Along with her sister Annie (Whitman) and her childhood best friend Ruby (Retta), Beth takes drastic action to get control of her life back. Of course, one desperate act begets another, and soon enough the three women might be in over their heads. Though previously they had all been rule followers, when that didn't work they chose to veer in the other direction.
The situations in Good Girls are heightened on purpose for the sake of comedy, but the characters remain grounded despite whatever hijinks they find themselves embroiled in. "These women are all inherently quirky people in ludicrous scenarios, so we're just trying to deliver honest storytelling," Hendricks told Entertainment Weekly. "But it ends up being pretty hilarious at the same time. They're so out of their comfort zone and yet they're fully committed."
The show and all the characters in it are fictional, with no specific real world events acting as anything more than thematic inspiration. However, that doesn't mean that viewers won't be able to relate to Beth, Annie, and Ruby as they try to navigate a series of increasingly impossible situations. The shenanigans they get up to might be different from most people's daily lives — if you've ever tried to rob a grocery store after being cheated on then I don't know why you haven't sold your memoir yet — but that doesn't mean there's nothing to connect to here.
You might be rooting for the women of Good Girls or groaning at their life choices, but there's still a chance the show might hit home anyway.
Check out Romper's new video series, Romper's Doula Diaries:
Watch full episodes of Romper's Doula Diaries on Facebook Watch.