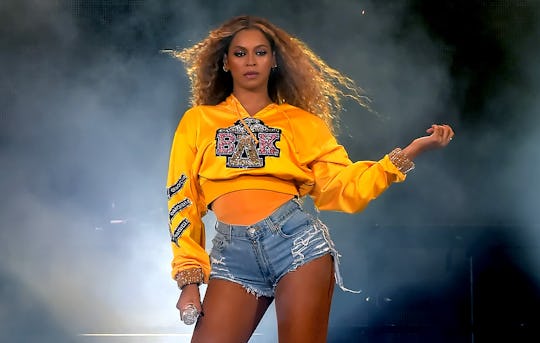 Kevin Winter/Getty Images Entertainment/Getty Images
Beyoncè May Not Attend The 2018 Billboard Music Awards, So Start Preparing Yourselves Early
The last time fans saw Queen Bey, she was tearing it up at Coachella, and now fans are hoping to see her grace the stage at the 2018 Billboard Music Awards. Beyoncè's last album, Lemonade, won her five BBMA's last year, but with no album release since then, she has only been nominated in two categories this year. With her small amount of nominations, and no confirmed performances, fans are anxious and wondering, is Beyonce at the 2018 Billboard Music Awards, or is she skipping the event altogether?
As of now, there have been no confirmed reports of Beyoncè's attendance, and she's not on the list of performers and presenters for the event. While she hasn't had an album release to qualify for most of the major awards, she has been nominated for the Top R&B Female Artist and Top Latin Song for her collaborative single "Mi Gente" with J Balvin and Willy William. So, as a nominee, there may be a chance she shows up to accept an award if won.
Beyoncè has had some memorable moments at the BBMA's over the years. She has been nominated 34 times, and won 11 Billboard Music Awards so far, and at the 2011 BBMA's, while winning the coveted Billboard Millennium Award, she landed one of her most iconic moments with her mind-blowing performance of Run The World (Girls).
JAY-Z, who has been nominated for only one BBMA this year — Top Rap Tour — has been keeping busy with his Queen, as both have been prepping for their upcoming On The Run II Tour. Their concert tours have been wildly successful in the past, with the On The Run Tour netting the couple $95 million, and according to Billboard Boxscore, this year's tour may net them double that amount. The international On The Run II Tour hits 15 European cities in June and July, and will continue to tour the United States and Canada, with 21 performance from July through September.
With all of that happening on the horizon, it wouldn't be surprising if the duo decided to forego attending this year's Billboard Music Awards. Though, if that really does turn out to be the case, fans are sure to be disappointed. After all, if Queen Bey doesn't attend an award show, did it really even happen? Is it even worth watching? And, of course, if they don't attend, then we can definitely rule out the chance of catching Blue Ivy on the red carpet or giving us another perfect gif to use throughout the weeks (or years) to come.
Either way, Beyoncè is busy conquering the world as usual. After successfully launching her fashion line, Ivy Park, Beyoncè has taken the hold of the vegan health industry with her investment in the cold-pressed juice company, WTRMLN WTR, and her launch of the vegan meal delivery service 22 Days Nutrition, reported Essence. Bey has been on the forefront of promoting wellness, and after seeing her post-baby body and energy, she's got people listening. Plus, you can't forget that she's also partly responsible for making kale famous.
So, if she's busy making people happy through her music, while she ventures bring healthy foods to the world, there is a chance she may not show up to the 2018 Billboard Music Awards. But, because there's just not enough Beyoncè in the world at any given moment, I really do hope she makes it and blesses her fans with her iconic style and grace.
Fans can find out for sure whether or not Beyoncè is in attendance when the 2018 Billboard Music Awards kicks off on Sunday, May 20 at 8 p.m. ET on NBC.