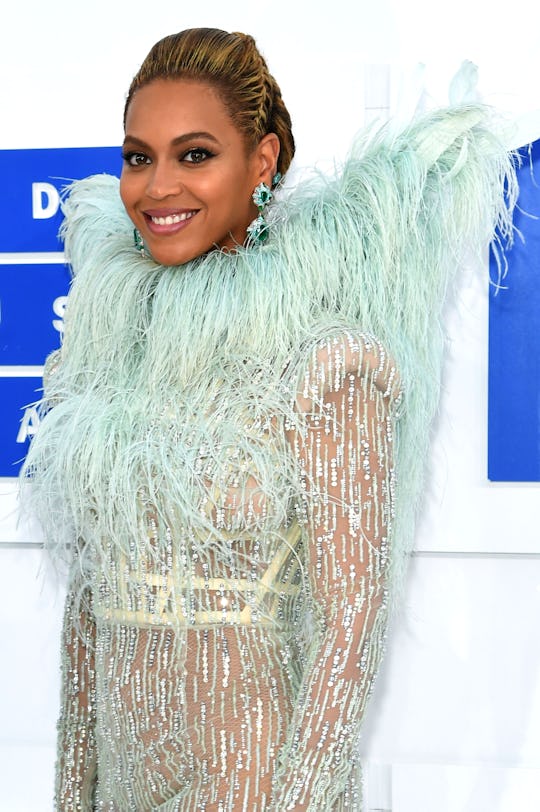 Jamie McCarthy/Getty Images Entertainment/Getty Images
Is Beyonce At The VMAs? You Must See The Cast Of 'Lemonade' On The Red Carpet
While there were no confirmed reports of a Knowles-Carter joint appearance ahead of the 2016 MTV VMAs, family matriarch Beyoncé does have her visual album Lemonade nominated in 11 different categories at the awards show, so it would be a huge surprise for her not to show up. As much as we'd love it if Solange mystically appeared to accept all her sister's awards on her behalf, there have been multiple reports that Beyoncé is prepping to perform. So is Beyoncé at the VMAs? Obviously! She appeared on the red carpet promptly during the pre-show, dressed like a gauzy angel, along with Blue Ivy and other prominent cast members from Lemonade like Winnie Harlow, and the mothers of Eric Garner, Trayvon Martin, Mike Brown, and Oscar Grant.
Reports surfaced that she had been hitting the rehearsal studio multiple times this week; but there was no word on what kind of performance she'd be giving. Entertainment Tonight speculated that, since nothing has been teased yet about a Prince or David Bowie tribute, Beyoncé might have a hand in honoring the icons who died earlier this year. She's also taken over the official VMAs hashtag, with tons of folks tweeting instead about the #BeyMAs. MTV has been sending plenty of cryptic tweets and Instagram posts from its official accounts teasing Beyoncé content, but that may just be in reference to her record-breaking 11 nominations.
And Bey has a long history of memorable performances at the VMAs, from her 20-minute long set (which included her standing in front of a giant screen emblazoned with the word "FEMINIST") when she accepted the Video Vanguard Award in 2014, to the 2011 performance that ended with Beyoncé announcing the impending arrival of Blue Ivy Carter by flashing the world her baby bump at the end.
So let's consider it a hint as to the nature of her performance that Beyoncé graced us with the entire Lemonade crew in tow.
Of course, Beyoncé came through with a blissfully long Lemonade set, giving us several tracks off the album in a sweeping performance that could have been another Video Vanguard performance. (This year's Video Vanguard, however, is Rihanna, who opted to split up her medley into four different performances.) Serena Williams, who had a cameo in "Sorry," introduced Beyoncé, who played bits of "Pray You Catch Me," "Hold Up," "Don't Hurt Yourself," "Sorry," and "Formation."
She even won Best Female Video, which was appropriate, since her performance ended with her backup dancers sprawling out on the floor in the shape of the Venus women's gender symbol. Needless to say, thank you, Bey, for never, ever disappointing us.