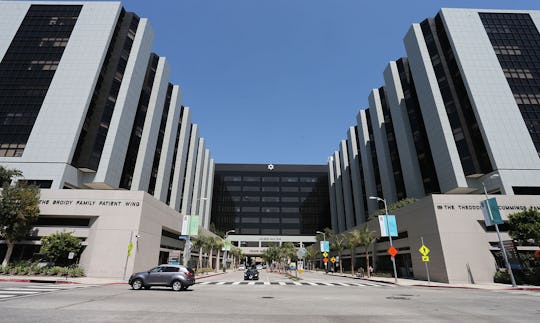 Frederick M. Brown/Getty Images Entertainment/Getty Images
Is Beyonce Delivering At Cedars-Sinai?
Details on the upcoming birth of Beyoncé's twins are in high demand, but unfortunately for her fans, the singer is notoriously private, and of course she makes no exceptions when it comes to her kids. Speculation abounds: are the babies boys or girls? When are they due? Is Beyoncé delivering at Cedars-Sinai? The hospital declined Romper's request for comment, citing privacy laws, but the gossip sites are in agreement that unlike their sister, Blue Ivy, the twins will be born in Los Angeles. Beyoncé's representative did not immediately respond to Romper's request for comment. Fans — and really, anyone who pays even the smallest amount of attention to celebrity news — will recall that Blue Ivy was welcomed at New York's Lenox Hill Hospital amid a flurry of accusations of special treatment (all of which were denied).
People reported in March that the family was house hunting in Los Angeles, and earlier this month, Radar Online claimed that after discovering mold in their Bel Air rental, the Carters moved to another rental "just minutes from Cedars Sinai." In Touch elaborated with its own claims (anonymously sourced, of course) that Beyoncé and Jay Z "are already making diva demands" of the hospital, but the details are far from explosive. They've supposedly scheduled a C-section (I guess that makes me, and about one-third of U.S. mothers "divas").
In Touch also claims that the couple had "everyone" sign confidentiality agreements, which is completely unnecessary, as it's already against the law for hospitals to share information about patients without consent. Another claim is that the couple is having their hospital stay catered, which is completely reasonable to me, as hospital food is super gross, and they are rich. The final item is a claim that "Jay doesn't want cameras in the room, hallways or elevators, which is an impossible request." Not only that, it's terrible optics; the couple caught hell for unproven rumors that they covered cameras at Lenox Hill during Blue Ivy's birth. Even if it were true, they'd know better than to try that again.
But if one was looking to give birth like a diva, Cedars-Sinai seems like the best place to go. The hospital offers Deluxe Maternity Suites that come with a personal doulas, full-sized tubs, stocked refrigerators, deluxe meals for both parents (and others, for a fee), and extra rooms for overnight guests. Prices aren't listed on the hospital's website, but Today reported in 2013 that the three-room, two-bath suite costs $4,000, and includes a hair stylist, manicures, and pedicures, and has been used by Victoria Beckham, Kate Hudson, and two Kardashians. But is it fit for a queen? Expect a breathless and likely unfounded report in the coming weeks.