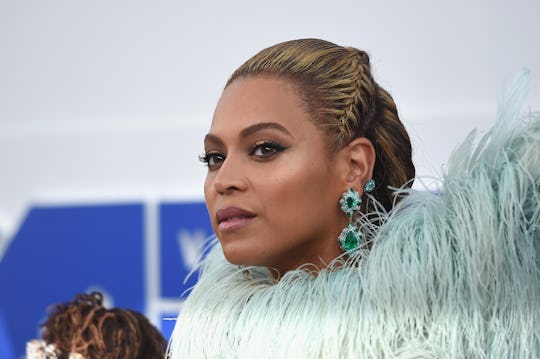 Jamie McCarthy/Getty Images Entertainment/Getty Images
Is Beyonce Having Boys Or Girls?
Beyoncé reminded everyone that there's a little bit of light left in this dark universe when she announced on Wednesday via an Instagram post that she is pregnant with twins. People immediately became emotional on Twitter, because the singer and activist expanding her family is very welcome news in what has felt like a dark news cycle for many. But Queen Bey didn't release as many details as lots of fans would like; many people are wondering if Beyoncé is having boys or girls. It shouldn't matter, regardless, especially in an age when gender doesn't determine anything about a person or what they can accomplish, but hopefully she'll feel comfortable revealing more deets at some point soon.
Beyoncé captioned her pregnancy announcement:
We would like to share our love and happiness. We have been blessed two times over. We are incredibly grateful that our family will be growing by two, and we thank you for your well wishes. - The Carters
Beyoncé and husband Jay Z already have one daughter together, Blue Ivy, who is 5 and has been prominently featured in Beyoncé's music video for "Formation," on the Lemonade album, and in the Lemonade film. The toddler also makes regular appearances on her parents' Instagram accounts, so it's likely that the couple won't hide the twins from adoring fans.
Beyoncé's caption of the image just said "growing by two" — it did not say "two boys" or "two girls" or "a boy and a girl." Some fans have speculated on Twitter that Bey became pregnant with twins after using in vitro fertilization (a speculation that is incredibly nosy and that has not been confirmed), which increases the chances of twins. It was also rumored that she used IVF to become pregnant with Blue Ivy, though, again, that is a rumor that has never been confirmed.
Beyoncé has talked about having a miscarriage the first time she became pregnant. In her HBO documentary, Life Is But a Dream, she said, according to The Hollywood Reporter and People:
About two years ago, I was pregnant for the first time. And I hear the heartbeat, which was the most beautiful music I ever heard in my life.
I picked out names. I envisioned what my child would look like.
The following year, she became pregnant with Blue Ivy, and infamously announced the pregnancy at the the MTV Video Music Awards. During that pregnancy, Beyoncé actually never revealed the gender of her baby. Instead, her mom Tina accidentally let that news slip, according to Cosmopolitan. And it's likely something that doesn't matter to Queen Bey. In addition to her music, she's awesome because of her activism regarding race and gender equality, and along with those views she likely doesn't make assumptions about her children based on the sex and gender they were assigned at birth.
Regardless of gender, Beyoncé's twins are sure to be awesome and inspiring, and Blue Ivy will probably be pumped to have siblings.