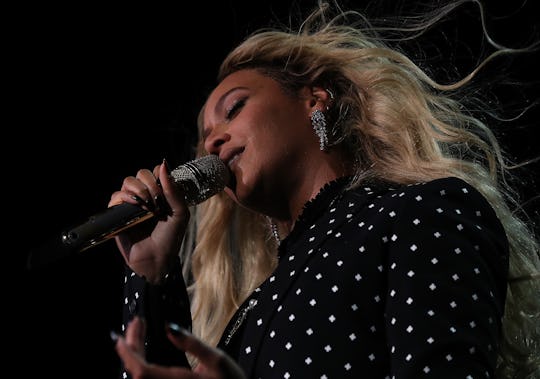 Justin Sullivan/Getty Images News/Getty Images
Beyonce Is Expecting Baby #2... & Baby #3!
Blue Ivy, get ready to be a big sister! On Feb. 1, Beyoncé dropped a huge announcement and let the world know she's pregnant with Baby Number Two, to the surprise and excitement of fans. What's even more exciting, though, is that she might actually be having Baby Number Three, as well — judging by her announcement on Instagram, Beyoncé is having twins.
The Lemonade star uploaded a gorgeous photo of herself to Instagram on Wednesday, in which she cradled her baby bump in front of a beautiful display of flowers. She captioned the shot:
We would like to share our love and happiness. We have been blessed two times over. We are incredibly grateful that our family will be growing by two, and we thank you for your well wishes. - The Carters
So yes, it seems pretty clear that Beyoncé, Jay Z, and 5-year-old Blue Ivy are expecting two tiny additions to their family. Other than her surprise release of Lemonade, this might be the biggest bomb Beyoncé's dropped since she revealed her first pregnancy to the world at the 2011 Video Music Awards, when she unbuttoned her sparkling jacket to expose her baby bump.
Clearly, 2017 just got much, much better.
Just a few days before her announcement, rumors were already swirling about a possible second pregnancy. An Ivy Park ad reportedly appeared, then mysteriously disappeared, on Jan. 27, showing Beyoncé rocking Ivy Park gear and a suspicious-looking bump, according to Hollywood Life. On top of that, some reports were already claiming Beyoncé was four months pregnant in late January.
Now that the news has been confirmed, fans and friends have been more than happy to take a break from politics in order to celebrate the news. (I mean, come on, we needed this.) Soon after the news broke, actress Brie Larson tweeted, "NO - YOU ARE CRYING BECAUSE BEYONCÉ IS HAVING TWINS," which, hey, probably captures how a good deal of fans feel right now.
Others joined in with words of congratulations on social media:
Clearly, these twins are already under a lot of pressure already — to become part of some future, family-style Destiny's Child; to become leaders of America; and to help carry some fantastic Beyoncé-related puns over the next few months. But hey, they're Beyoncé's offspring. Surely they can handle it. The real question here is, can the rest of us handle the excitement of not one, but two additions to the Beyhive? Because I'm not sure, folks. I'm really not.
Congratulations to the Carters on the exciting news!