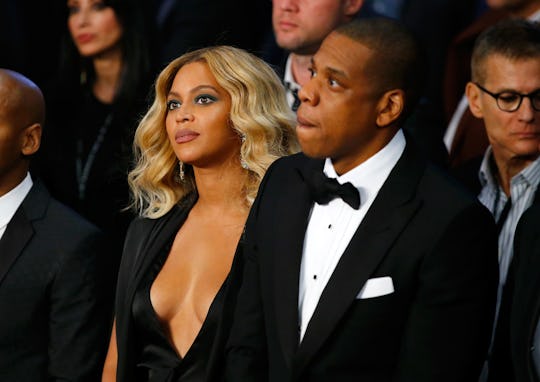 Al Bello/Getty Images Sport/Getty Images
Don't You Ask, "Is Beyonce Really Pregnant?", OK?
Oh happy days! The big news that Beyoncé is pregnant came on Wednesday afternoon when we were least expecting it. "The Carters", as Beyoncé signed her Instagram announcement, are expanding by two, a.k.a., there are twins on the way! It's a an exciting time, but every party has a pooper, and of course there are people asking "Is Beyoncé really pregnant?", based off of that "rumor" during her pregnancy with Blue Ivy. And you know what? That question is actually really insulting.
When Beyoncé was pregnant with Blue Ivy, certain people took it upon themselves to suggest that Queen Bey was actually not pregnant. There was an incident, with a dress, that led some reports to claiming that Beyoncé "faked" her pregnancy. She has proved to those naysayers that she was in fact pregnant with Blue, as seen in a home video of her and husband Jay Z during the "On The Run" tour. In the video, the happy couple laughs while Jay holds Beyoncé's pregnant stomach — proving once and for all, she carried Blue Ivy.
So, it's actually rude to suggest that Beyoncé isn't really pregnant with her twins. Not only is it unfair, since the rumor that she wasn't pregnant with Blue Ivy was very widely debunked, but it completely undercuts much bigger issues.
First of all, it undercuts Beyoncé's authority to say what is and isn't happening to her body. If Beyoncé says she's pregnant and shows she's pregnant, then guys, BEYONCÉ IS PREGNANT. (Goes back into a state of pure bliss because there will be more Beyoncé creations in this cruel, cruel world.) The woman is the only person who can call the shots to what is going on in Beyoncé's Body, and we've got to take her at her word. And her Instagram. And if you ask me, her Instagram is telling us a very specific and clear message.
Asking "is Beyonce realllly pregnant?" this time around is also harmful to mothers who can't personally carry their children (or can't conceive at all). There are millions of women around the world who struggle with infertility or have to go through IVF to conceive... some have to use a surrogate because they can't carry a child. So, asking if someone who is saying she is personally pregnant with twins is actually pregnant, really isn't fair to the women who might not be able to have that opportunity.
Then, there's the final reason you shouldn't be asking if Bey is really pregnant. And that reason is: Beyoncé is the boss. What she says, goes.