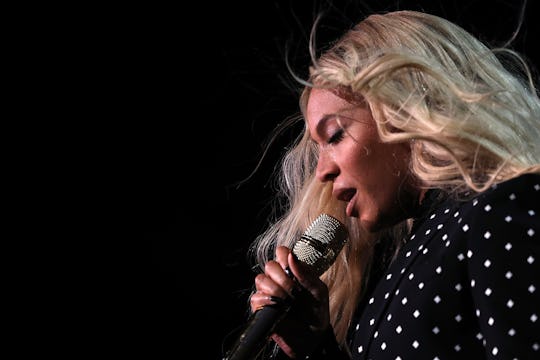 Justin Sullivan/Getty Images News/Getty Images
Beyoncé's Most Recent Instagrams Have Fans Whispering About A New Album
This has been an exciting year for the Bey-Hive! Between JAY-Z releasing his visual album, Blue Ivy showcasing her rapping skills, and the birth of the twins, there has been much to celebrate. However, recent Instagram posts by Queen Bey have fans asking, is Beyoncé releasing a new album?
The posts in question are slideshow videos with musical backgrounds, featuring pictures of the Queen herself and husband JAY-Z. The recent influx of videos on her page have caused fans to speculate that she will bless us with new music soon.
2017 has already had a taste of new material from Beyoncé. Immediately following her jaw-dropping Grammy Awards performance, she and JAY-Z released their new single, "Shining" with DJ Khaled. This collaboration could have been setting the stage for new solo music from Yoncé in the near future (here's hoping).
While it wasn't entirely new material, Beyoncé also released a new version of her 2015 track, "Die With You," as a testament to her love for JAY-Z on the anniversary of their wedding on April 4. The video shared personal footage of her home life and quickly gained national attention. Flutters of excitement shook the Bey-Hive, but, alas, it was not the new music fans are begging for.
For many of us, the prospect of releasing and promoting a new album so shortly after giving birth may seem a bit overwhelming. Fortunately, Queen Bey is no mere mortal. We were shown the strength of her will when she wrote and performed new material throughout her pregnancy with Blue Ivy, and again when she performed while carrying the twins. Long hailed as a Superwoman superstar, Beyoncé has been called the "hardest-working woman in showbusiness." With chops like these, new music alongside new babies is not a far reach.
Even if solo music isn't in the cards for Beyoncé this year, additional collaborations with JAY-Z are also a possibility. Rumors of a potential joint album release from the couple have been circulating since last year. If "Shining" was a sampling of such a joint venture, such an album would be warmly welcomed.
As of now, Beyoncé has released no statements confirming or denying rumors of new music. Assumptions of a coming album based solely on a few music video Insta-posts is a bit of a stretch. All disclaimers aside, the Carters have been known to release new material surrounding monumental personal milestones – and I would say that welcoming new twins to the family is quite the milestone. Rumors or not, I'll be patiently waiting for some new material from my Queen.