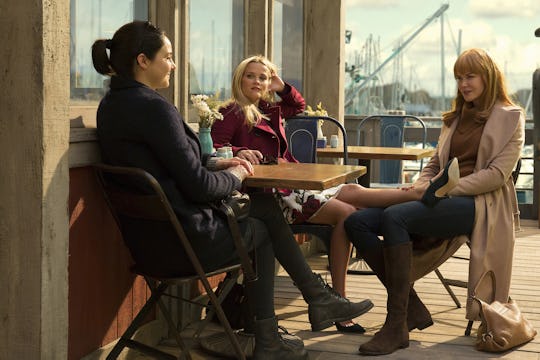 Hilary Bronwyn Gayle/courtesy of HBO
HBO's 'Big Little Lies' Has Literary Inspiration
In many ways, the plot of HBO's new series Big Little Lies sounds like a familiar story: it explores an idyllic setting that is actually hiding a dark underbelly. That darkness begins to rise to the surface over the course of the story. While the privileged moms at the center of Big Little Lies may seem like they have everything under control, they also all have their own secrets, some of which are dangerous enough to end up consuming everything. The growing unease results in a murder, and the series then has to unravel just what happened and why. It sounds like a complicated enough story to have come from a novel, but is Big Little Lies based on a book?
Indeed it is; Big Little Lies was adapted from the novel of the same name by Liane Moriarty. Reese Witherspoon, seemingly always on the lookout for interesting novels with complex female protagonists to adapt to the screen, optioned the book and produced the series. She also snagged one of the starring roles alongside an impressive cast of actresses that includes Nicole Kidman, Shailene Woodley, Laura Dern, and Zoë Kravitz. Big Little Lies was a New York Times bestseller, and the same story that captivated readers promises to do the same thing upon making the jump to television.
It looks like the television adaptation of Big Little Lies will stay true to the book, too, because the people involved behind the scenes loved the book too much to deviate from it much. During the Television Critics Association, executive producer and writer David E. Kelley said that the process of adapting the novel was "both easy and challenging. The easy part was I could stay faithful to the story I loved. The architecture was there, the character development was there, the world was there. That made it easier."
In fact, according to Kelley the most difficult part was making sure they could do the book justice. Some details had to be altered or cut entirely simply because of the shift in medium. "What was challenging was living up to the book, living up to the complications of some of those characters and also having to make cuts, because there are nuggets in the book that if we had more time, we could've explored more crevices," he said. "It was a pretty smooth process and a fun process overall. I give credit to Liane. She wrote a terrific piece."
While there will be some changes in the TV show (chief among them that the setting shifted from Australia to the United States), it seems like the crew behind Big Little Lies is dedicated to preserving the book as much as they can. Fans of the novel should be pleased by the adaptation, and new fans will get a good sense of the original story.