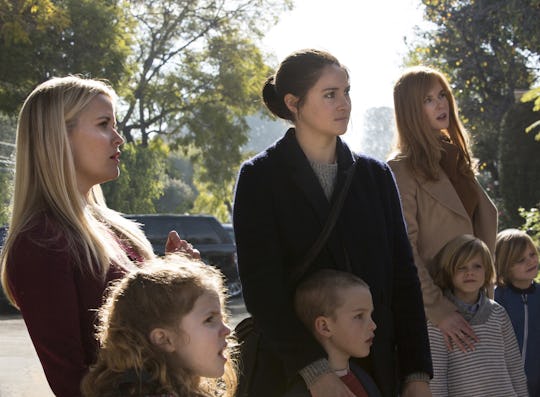 Hilary Bronwyn Gayle/courtesy of HBO
Is 'Big Little Lies' More Fact Or Fiction?
HBO's anticipated limited series, Big Little Lies, premieres this Sunday, Feb. 19. Based on the best-selling novel by Liane Moriarty, the show follows a group of first grade parents leading up to and after a big tragedy in the community. What happened and who's responsible, however, remains a mystery. Big Little Lies is full of drama, but not so far-fetched that what occurs could not actually happen. It's possible that Moriarty was inspired by a crime similar to what occurs in her novel. So was Big Little Lies based on a true story? It's not so hard to believe.
Moriarty is an Australian novelist and no stranger to dark themes. Her other novels, such as The Husband's Secret, deal with marital issues and death. Big Little Lies touches upon these subjects as well: the mystery is a death in the community, and several of the couples suffer from marital issues, to say the least. Big Little Lies also explores other concepts, like bullying.
In a 2014 interview with The Guardian's Bethanne Patrick, Moriarty talked about what inspired this work. She had what she called two "minor sparks" of inspiration: one was a friend discussing a trivia night, which ended up being the catalyst event in the novel. The second was another friend discussing how her young daughter had bite marks on her arm; she eventually admitted that she wasn't bullied — she bit herself. The novel dives into what happens when a child is bullied, both for the children and their parents.
"But the real impetus," Moriarty told Patrick, "is a radio interview I heard in which a woman was talking about how her father had abused her mother, the trauma of it." Moriarty ended up using this heartbreaking story as one character's background. In an interview with Goodread's in 2014, Moriarty divulged that this was common practice for her. "I always say that I never steal an entire personality, but I do take little bits and pieces from people," she said.
So, was Big Little Lies based on true events? It's clear that Moriarty extracted elements of her story from real life, but the plot of the novel is fiction. What makes the novel — and hopefully the series — powerful, though, is that it's all too possible that these events really have occurred in some form or another. Perhaps it's to do with these bursts of inspiration, or Moriarty's writing style. Nonetheless, Big Little Lies is a chilling, gripping story that's hard to look away from.