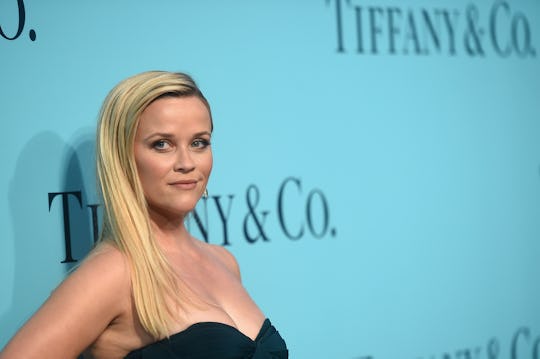 Jamie McCarthy/Getty Images Entertainment/Getty Images
Reese Witherspoon Sparks 'Big Little Lies' Season 2 Rumors
Grab your wine glasses and find a beautiful sunset, because your favorite prestige mom drama might be getting a second season. In a cryptic Instagram post on Sunday, Reese Witherspoon hinted that a Big Little Lies Season 2 may be on the way. And sure, Season 1 worked wonderfully as a limited run stand-alone, but who could say no to even more twists, gorgeous California houses, and A-list actresses emoting like none other?
Witherspoon, who played alpha-mom Madeline Martha Mackenzie on the HBO show, along with producing it, sent Big Little Lies fans into a frenzy when she posted a picture with two of her co-stars, Nicole Kidman and Laura Dern. She captioned the photo, "Spending #SundayFunday with these ladies ... working on some new lies." Of course, a vague caption like that could mean a lot of things. But also, if it's not referencing a second season, how cruel is that? Don't play with our hearts, Reese!
This isn't the first time that Witherspoon has teased a return to the world of Monterrey mothers. Back in April, Witherspoon told E! News,
Yeah, Nicole and I just spoke about it three days ago. We're talking to Liane Moriarty, who wrote the book, about how could these characters go on. What would happen? We definitely left it open-ended so there's a possibility there.
Romper has reached out to HBO for comment on the Season 2 rumors and is awaiting a response.
And while author Liane Moriarty may have said that she didn't plan on writing a sequel to the novel, she did confirm that, at the request of the producers, she's started thinking about some ideas for a second season of Big Little Lies, telling the Sydney Morning Herald,
I have started to think about ways this could continue. ... I wouldn't write a new book but perhaps a new story and then we'll see what happens.
Of course, not everyone has seemed up for extending the story. Director Jean-Marc Vallee told The Hollywood Reporter that he didn't want to do a second season of the show. And it would certainly be a big challenge. Because the first season covered all the events of the novel, the second season would have no such pre-existing blueprint to follow, and would have to create all-new drama and suspense while still staying grounded in the world and not tarnishing the legacy of the original episodes. One would hope that the producers wouldn't do a second season just to do one, but because they had another incredible story to tell about these characters.
Still, if anyone can pull off a sequel to one of the year's most buzzed-about shows, it's these ladies. Fingers crossed!