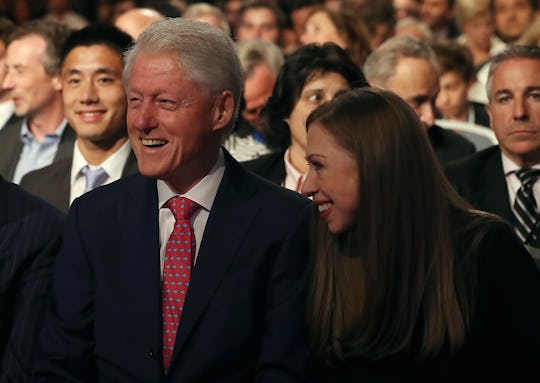 Justin Sullivan/Getty Images News/Getty Images
Is Bill Clinton At The First Presidential Debate? He Took A Night Off The Campaign Trail
Speculation has arisen in the days leading up to the first presidential debate about who will and will not be attending. After rumors spread that Trump's campaign invited Gennifer Flowers, a woman with whom Bill Clinton had an affair, and that Hillary Clinton's campaign invited anti-Trump billionaire Mark Cuban to the debate, people have been wondering who will actually show up, according to ABC News. But for most, it's no surprise that husband Bill is at the debate cheering on Hillary as she goes head-to-head with Trump for the first time.
Clinton has been aggressively campaigning on behalf of his wife, using his generally favored status among Americans to attempt to bring swing voters into blue territory. Most recently, he has defended the record and legacy of the Clinton Global Initiative and the Clinton Foundation against attacks that they have accepted foreign and corporate sponsors, according to Politico.
And on Tuesday, Clinton will visit Ohio voters in Cleveland and Toledo, where he will "lay out the high stakes of November's election" and "urge Ohioans to register to vote," according to a release from the campaign. Trump's running mate Mike Pence will also be visiting around the same time, according to Cleveland.com. The state is leaning red, so Clinton's work is cut out for him.
After his stop in Ohio, Clinton will be speaking in several northern Florida cities while on Hillary's "Stronger Together" bus tour, according to WCTV. With just a few weeks left until Election Day, Hillary's biggest supporters are going to have to put in overtime to help increase her favorability and solidify her lead.
Considering his schedule, it actually is quite impressive that Clinton made it out to the debate. But when you're the husband of a presidential candidate, you gotta do what you gotta do.
Some predicted that Clinton wouldn't show because Flowers would be in attendance. Although that might be uncomfortable for all involved parties — except maybe Trump — it probably didn't factor into his reasoning. With a full schedule and overflowing to-do list, Clinton had a lot of other things to consider. But it's definitely a good thing he showed up.
Hillary can't go wrong with as much support as she can get from close family and friends tonight, especially considering the sexist garbage she might have to deal with during the debate. Trump has a history of making inappropriate, lewd comments and personal attacks on women. Maybe in the presence of a man, Trump will be less likely to unfairly attack Hillary. But probably not.