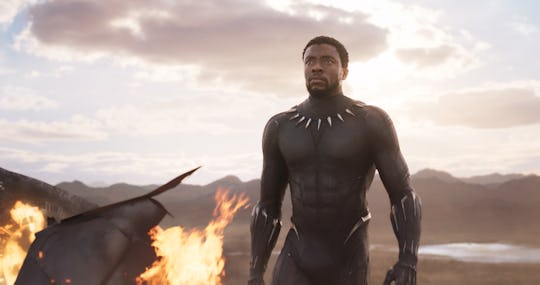 Courtesy of Marvel Studios
Is Black Panther OK For Kids Under 5? Here's What Parents Need To Know
With Black Panther officially hitting screens this Friday, a few parents are wondering whether a trip to the theater to watch the much-anticipated film will be a fun experience for the whole family, or if maybe they should hire a babysitter for the night. So is Black Panther OK for kids under 5, or should the younger kids maybe sit this one out?
If you've caught a trailer for Black Panther, you're probably aware that the Marvel spectacular contains a few intense action scenes that might not be age-appropriate for a toddler crowd. The Motion Picture Association of America rated Black Panther PG-13, according to CBR, due to "prolonged sequences of action violence, and a brief rude gesture."
While parents will have to wait until the movie comes out on Feb. 16 to scope out the movie for themselves, the IMDb Parents Guide for Black Panther highlights a few scenes that parents might find dicey for their kids. According to the guide, the movie contains a brief scene in which a man and a woman kiss, another in which a character flashes a middle finger at another character, as well as some light profanity throughout the film. There are also several fight scenes that involve spears, swords, guns, and other weapons, and a few scenes depict injuries, including a broken arm, a slit throat, and several sword slashes.
All in all, Black Panther probably isn't the best choice for toddlers. However, it is a movie you'll want to watch if you're into the Marvel world, so maybe hire a sitter for the night and get to a movie theater on Friday. (Or maybe go a day or two later to skip opening night lines — but then make sure to keep away from social media in order to avoid any spoilers.)
Black Panther is expected to bring in $170 million at the box office in its first weekend alone, according to Vanity Fair, with ticket pre-sales already selling quicker than past winter blockbusters, including Beauty and the Beast and The Hunger Games.
"It's outpacing all other superhero movies—literally every other superhero movie in the modern era," Erik Davis, managing editor for Fandango, told Vanity Fair:
I think it's sort of groundbreaking that this film is performing like that. ... I'm seeing pastors saying that they bought out theaters for their congregation.That's something that I've never, ever seen from a superhero movie.
The excitement is due in part, of course, to the film's award-winning cast, big budget, and stand-out production team. But anticipation for the movie stems mostly from the Black Panther's standing as the first black superhero and the movie's black-majority cast.
"It's important because I didn't have this growing up," Black Panther star Chadwick Boseman told Good Morning America, explaining the importance of the movie. He added:
I'm still a kid, you know, there's a kid in each one of us, and so I just know what it's going to mean to you when you see it — that it can give you a certain type of confidence when you walk through the world. It also makes people that look like you see you in a different light and not judge you in a particular way.
On top of all that, critics have also already given the film a 97 percent fresh score on Rotten Tomatoes, which is a pretty rare high score for an action film on the review site. It suggests that — whether the whole family attends the screening or not — you should be running, not walking, to the theater for Black Panther this weekend.
Check out Romper's new video series, Bearing The Motherload, where disagreeing parents from different sides of an issue sit down with a mediator and talk about how to support (and not judge) each other's parenting perspectives. New episodes air Mondays on Facebook.