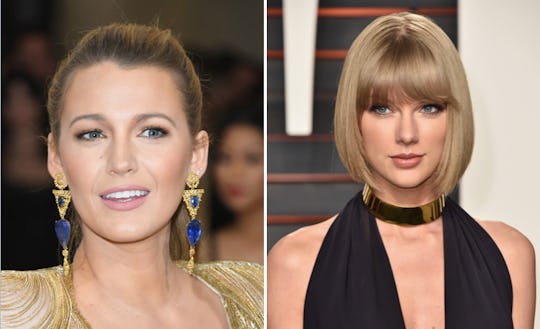 Dia Dipasupil / Staff, Pascal Le Segretain / Staff / Getty
This Theory May Prove That Blake Lively's Daughter Is Featured In Taylor Swift's 'Gorgeous'
There may still be three weeks left until Taylor Swift's Reputation is officially released, but the third single from her greatly-anticipated album has created quite the buzz. On Oct. 20, the 27-year-old singer dropped "Gorgeous" — and it already has nearly 9 million views. There's just one question everyone is dying to know: Is Blake Lively's daughter featured in Taylor Swift's new song? Some fans are freaking out about the possibility.
Us Weekly reports that die-hard Swifties are convinced James Reynolds, the 2-year-old daughter of Blake Lively and Ryan Reynolds, is the mystery voice who speaks at the beginning of "Gorgeous." On Oct. 19, the 10-time Grammy winner teased a snippet from her newest single via Instagram. The few-seconds-long clip features the voice of a child adorably saying, "Gorgeous," followed by an electronic beat. Although Swift's vocals weren't included in this teaser, fans honed in on the possible identity of the little one.
People reports that Swift reblogged a Tumblr post, which read, "The little kid saying 'Gorgeous' at the beginning I think is my favourite part though Taylor…I mean IT'S JUST SO CUTE! Who is that????" Swift cryptically replied with three words: "300 people know."
Of course, this wasn't as much of a mystery as it first seemed. That's because Swift hosted two (not-so-) secret album listening parties for some of her biggest fans from across the world — one on Oct. 18 at her home in Rhode Island and another in London, according to Entertainment Weekly. Unfortunately, none of these dedicated Swifties seem to be spilling the details behind the child's identity. At least not yet.
However, on Oct. 20, a Blake Lively fan account tweeted: "It is rumoured that the child's voice at the start of Taylor's Swift's new song, #Gorgeous is Blake and Ryan's daughter James!"
Fans proceeded to FREAK OUT.
Clearly, Swift fans are over the moon about the possibility of the voice belonging to little James. Check out the full song in the official "Gorgeous" lyric video, below to hear it for yourself.
Although the most popular conclusion pins James Reynolds as the child's voice in the "Gorgeous" intro, there are a few other theories floating around out there. Some have speculated the mystery voice is that of Jaime King's son, Leo Thames Newman, according to Us Weekly. Which makes sense, considering Swift is the toddler's godmother. And if little Leo is the mystery voice, there's no doubt that Swift basically the best godmother in the history of the universe. (In case that was even up for debate before.)
Many fans have also wondered if the voice could be Taylor Swift's as a child. However, this theory has been shut down by Swifties in the know, reports E! Online.
A third theory suggests that Lily Aldridge's daughter, Dixie Pearl Followill, might be the lucky toddler. According to People, this is a logical possibility because Aldridge is part of Swift's infamous squad. So she obviously has close ties with the family.
But alas, neither Swift — nor any of the 300 lucky souls who were invited to her secret listening parties — have confirmed the identity of the child whose voice is featured in "Gorgeous." They have, however, spoken up about who the new song is about. And no, it wasn't meant for Swift's ex, Tom Hiddleston, according to a fan who allegedly attended one of the listening parties. This Swiftie wrote:
basically taylor made us all promise that if anyone made any accusations of who this song is about, we tell them it is 100% about her angel boyfriend of 1 year.
I guess we'll just have to wait until Swift (or the Swifties) start spilling on the details. One thing's for sure: Whichever child the voice belongs to already has an impressive resume. (I mean, not many toddlers can list, "vocals on a Taylor Swift album" under their "skill's section.) In the meantime, if you need me, I'll be jamming out to "Gorgeous" and trying to solve the mystery for myself.