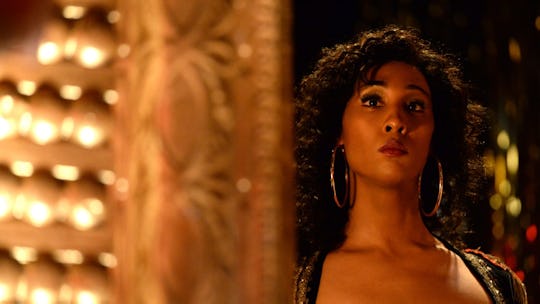 Courtesy of FX
Here's What We Know About Blanca On 'Pose' — & If She's A Real Person
Say what you will about Ryan Murphy, but he knows how to put together a great television show. People will definitely be talking about Pose, which is about the underground ballroom scene in 1980s New York City, for a long time. Since ballroom culture was based on realness, it's only natural to assume that Blanca on Pose is based on a real person. But is she? Well, it's kind of complicated.
Blanca is played by Mj Rodriguez, and her character on the show finds out that she is HIV positive. She then decides to break out from the House of Abundance and start her own house, therefore creating the House of Evangelista. A lot of the show is about her rivaling with her former "mother," Elektra, and gathering some more "children" for her house.
As Blanca explains in the show, "balls are a gathering of people who are not welcome together anywhere else. When you get rejected by your mother, your father, you're always out there looking for someone to replace the love you're missing." So a house is essentially a surrogate family for LGBTQ youth who were ostracized by their birth families because of their gender identity, sexual orientation, or were alone in the world for some other reason.
Balls in the 1980s were about a lot more than drag and vogueing. It was a real chosen family, as is best documented in the 1990 documentary Paris Is Burning, which should be required viewing before you tune into FX. So was Blanca an actual figure on the scene or not?
Alas, all of characters and their houses are completely fictional, but the creators did almost everything they could to keep it authentic. According to Deadline, the source material was written by queer Afro-Latinx writer and New York City native Steven Canals and Janet Mock was brought on as a writer, director, and producer, too.
There are five transgender actors actually playing transgender characters and some of the cast, such as Dominique Jackson (who plays Elektra) actually did hang out in the ballroom scene back in the day. Blanca, and Elektra, are basically an amalgam of Pepper LaBieja of the House of LaBeija, Hector Xtravaganza of the House of Xtravaganza, and all of the other founding mothers of all the other houses.
Rodriguez brings a lot of authenticity to her role as Blanca, having grown up in New Jersey and then joining the ball scene when she was 14 years old after landing the role as Angel in an off-Broadway revival of Rent. She told Entertainment Tonight, "That was the moment when everything came into full fruition, and I felt like, Finally I get to show people who I am." Rodriguez added, "My house father saw something in me, she saw potential and taught me how to vogue." She added of Pose:
It's like a history lesson. To see what we had to go through in 1987 and how we persevered, which is one of the reasons why a lot of us are here today and able to do shows like this.
And her character is like so many others on the scene all those decades ago. Rodriguez continued in the same interview, "Blanca is a rambunctious, strong, wonderfully powerful character who is trying to find her way and help others find theirs." One of the other realistic things about Blanca is her HIV diagnosis, given that 1987 was the height of the HIV/AIDS crisis in New York City and especially within the LGBTQ community.
In the show, her doctor prescribes her antiretroviral medicines to suppress the virus, although at the time, AZT wasn't always effective. Watching Blanca's character evolution throughout the show is a send up not to just the ball culture of yore but also all of the people lost to the disease throughout the years. So although Blanca, her children, and her rival Elektra are all fictional, they're steeped in actual history and the personal experience of the cast and crew. So in a way, yea, Blanca is a real person.